Global superstar Scottish singer-songwriter and musician Lewis Capaldi unveiled his second heart-stirring piano-led single 'Pointless,' co-written by Ed Sheeran. The single features on his forthcoming sophomore album, "Broken By Desire To Be Heavenly Sent," via EMI Records/Universal Music Canada in May 2023.
Here's everything you need to know about the Ed Sheeran-penned track 'Pointless':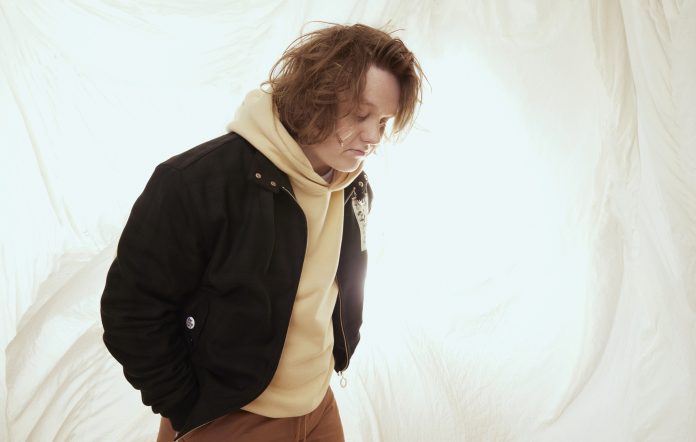 Everything Is 'Pointless' Without You, Capaldi.
When Lewis Capaldi composes a ballad, the world pays attention. And when he releases those songs that make you swoon, it's like discovering gems you want to hang onto for the rest of your life.
After teasing just one verse of the new single 'Pointless' on his social media, Capaldi-mania erupted as he amassed over 2.5 million views on TikTok overnight.
For his latest heartfelt love anthem, Lewis Capaldi derived inspiration from none other than Ed Sheeran, who's among the most enormously popular and commercially successful contemporary musicians with his ingenious prowess to straddle music genres ranging from pop, folk-pop to soft-rock, hip-hop and R&B, and penning down heart-stirring songs with profound emotions that struck a chord.
Following a similar approach with his unique signature vibe, Capaldi wrote the new song based on a lyric written by Sheeran from a song that never saw the light of the day, as he never got around to finishing.
His co-writers and collaborators mentioned a verse they'd previously begun writing with Ed Sheeran, and as Capaldi heard the line, he instantly fell in love with it.
He said, "Ed had that lyric, "I bring her coffee in the morning, she brings me inner peace". And pretty much every other line of that opening was just banging."
It inspired the hitmaker to jot a chorus, middle-eight and the rest of the song around Ed's words, which transformed into 'Pointless' by the end of the day.
Listen to "Pointless" here!
'Pointless': Deconstructing The Single
"Everything is pointless without you"
Adorned with his entrancing lush vocals that feel like a warm hug and his so well-constructed, rich, and thought-out, heart-wrenching lyrics telling a story, 'Pointless' will tug at your heartstrings and make you want to cry out loud as you experience the utmost love and passion for someone special in your life. The message reminds you of your love and nudges you to be close to your cherished one, no matter how close or far you are to them, and through all the storms you have weathered together.
Lewis gracefully incorporates everyday actions of our lives and illustrates both the physical and mental phases that exist in every relationship in a well-taken care, balanced way. The song's protagonist, a man, expresses his love for his girlfriend through the simple things he does for her every day and his actions are more of a physical act of service. In return, his girlfriend embraces him wholeheartedly with everything that she has and nurtures and heals him from the inside, mentally and emotionally, thus bringing out a sense of harmony and contradiction between the physical and mental aspects.
On the surface, his actions might feel insignificant compared to his girlfriend's, but both their contributions are equally crucial to their relationship as they're fully dedicated in the best ways they know how. Second, when excruciating anxiety and feelings of insecurity stir in one's mind, reflected through the words: "lost", "alone", "hurt" and "scared," what's important is how they make each other feel comfortable, acknowledged and safe in each other's presence. The way one stands at the "start" of everything and the other stays till the "end" holding onto the delicate abstract thread of love, the non-existent state of "reason" for her laugh and the unconditional "reason" for his love clash perfectly together, as they become the light of each other's lives.
Album: "Broken By Desire To Be Heavenly Sent"
The "Forget Me" hitmaker began working on music for his new album – the follow-up to 2019's Divinely Uninspired to a Hellish Extent – with Snow Patrol star Johnny McDaid and producer Steve Mac. The 26-year-old star worked on much of the album at home with songwriters he's recorded with before and the familiarity of both the musicians and his surroundings gave the project a chilled vibe.
He said, "I felt like I was sounding better because I was just chilled out in my own gaff. Also, a lot of this record was made with most of the same people who I worked with on the first one: TMS, Phil Plested, Nick Atkinson and Edd Holloway. At least one of them's on almost every song."
For the second album, Lewis' idea was simple but potent: to go in and do the same thing. No bells, no whistles, no featured vocalists or extravagantly priced stays in far-off studios. Just something similar to the first album, which is straight-up connecting hearts and utmost honesty with all efficacy and fortitude.
"I don't want to create a new sound for myself, or reinvent myself," says Lewis. "The songs I want to write are emotional songs, about love or loss."
It's been a whirlwind comeback for Lewis Capaldi from his poignant single "Forget Me," soaring to the top of the UK singles chart, and quickly became Gold-certified, smashing 100 million streams global, as his third UK number 1 single.
With that, the "King of Streaming" became the fifth artist in 2022 to have a single go straight in at Number 1 in its first week, sharing the honour with the likes of Harry Styles, Taylor Swift, Dave & Sam Smith.
Scottish singer-songwriter also revealed that he collaborated with Matthew "Matty" Healy of "The 1975" on the upcoming LP. In an interview with Zane Lowe on Apple Music 1, he said, "Listen, we wrote together for this album. I don't think I've mentioned it before. So I love 1975. I think [it's] my favourite band just now."
He further added, "I just love how he is and how they are as a band in terms of the way he is now, especially, he doesn't give a fuck. I think the amazing thing about him, well, is that sort of self-awareness is a massive thing. You don't put simple epicure and philosophy in your song and think, 'why are people calling me pretentious?' He knows. He's incredible. I absolutely love him."
Lewis Capaldi: Tour Schedule 2023
Lewis Capaldi announced an extensive UK/European arena tour in 2023, which kicks off at Leeds Direct Arena on January 14 with further dates in Manchester, Liverpool, Glasgow, Belfast, Dublin, Cardiff and Exeter. Just this summer, he re-emerged to headline his first-ever festivals, on top of two euphoric sold-out nights at London's O2 Arena last month.
See the full list of dates and venues below:
JANUARY
14 – Leeds, First Direct Arena
16 – Sheffield, Utilita Arena
18 – Manchester, AO Arena
19 – Liverpool, M&S Bank Arena
21 – Newcastle, Utilita Arena
23 – Aberdeen, P&J Live
24 – Glasgow, OVO Hydro
26 – Birmingham, Utilita Arena
27 – Nottingham, Motorpoint Arena
29 – Belfast, SSE Arena
30 – Dublin, 3Arena
FEBRUARY
1 – Cardiff, International Arena
2 – Exeter, Westpoint Arena
13 – Warsaw, Torwar
14 – Vienna, Stadthalle
16 – Berlin, Mercedes-Benz Arena
17 – Prague, O2 Arena
19 – Hamburg, Barclays Arena
21 – Frankfurt, Festhalle
23 – Antwerp, Sportpaleis
25 – Amsterdam, Ziggo Dome
26 – Paris, Accor Arena
28 – Cologne, Lanxess Arena
MARCH
2 – Copenhagen, Royal Arena
3 – Oslo, Spektrum
5 – Stockholm, Avicii Arena
7 – Zurich, Hallenstadion
8 – Milan, Mediolanum Forum
10 – Barcelona, Palau Sant Jordi
11 – Madrid, WiZink Center
14 – Stuttgart, Schleyerhalle
15 – Munich, Olympiahalle
Lewis also sold out his upcoming 2023 UK arena tour in seconds, with further shows around the world selling out in record time, so grab your tickets as quickly as possible. The clock is ticking!
Tickets for the Lewis Capaldi tour are now available for sale on his website. You can purchase tickets here and here.
If his first album made him an international star, with his second, it's nothing less than superstardom that beckons. His recent return has shown that the insatiable appetite for Capaldi burns as bright as ever. "I'm ready," he concludes, champing at the bit to get back out there, "and so are the songs."
Listen to 'Pointless' by Lewis Capaldi here!
Pre-order/pre-save the forthcoming album "Broken By Desire To Be Heavenly Sent."
Connect to Lewis Capaldi: Facebook | Instagram | TikTok | Twitter | Website | YouTube