With the release of her brand new album 'Denim & Diamonds' Nashville vocalist and songwriter Nikki Lane seeks to find hope in the freedom of embracing new beginnings.
---
---
Having enlisted Queens of the Stone Age frontman Joshua Homme to help bring her musical vision to life, the duo set about assembling a studio band of big-budget talent consisting of his Queens of the Stone Age collaborators Alain Johannes on guitar, Dean Fertita on organ and Michael Shuman on bass, as well as drummers Matt Helders of Arctic Monkeys and Carla Azar of Autolux, before working tirelessly to create a body of work that would elevate both her style and sound.
And with Homme's support, Lane successfully manages to transform the seeds of ideas she's had for years into an album that nods to her wide-ranging influences, from the psychedelia of The 13th Floor Elevators to traditional country stalwarts like Loretta Lynn, whilst also reflecting her decade long career as a songwriter, tracing the origins of her story and journey from her religious youth in South Carolina, to her days as a Nashville Rebel!
---
First High [Official Music Video]
---
Raised as a Baptist in Greenville, South Carolina, Nikki Lane discovered music as an outlet for creative expression at an early age, dropping out of school at 17 to move to Los Angeles, then New York, and then Nashville to launch her songwriting career.
Since 2011 she has released three studio albums – 'Walk of Shame', 'All or Nothin' and 'Highway Queen' – and won a legion of fans around the world, who find themselves irresistibly drawn to her powerful and unique style of country music!
Aside from steadily releasing new music of her own and touring the world, Lane was featured on 'Breaking Up Slowly' on Lana Del Rey's 2021 album 'Chemtrails Over the Country Club' and contributed to Spiritualized's ninth studio album 'Everything Was Beautiful'.
In celebration of 'Denim & Diamonds' release, we caught up with Nikki to talk exciting new musical partnerships, coping with pressure and the importance of never giving in to fear…
'Denim & Diamonds' is out TODAY! How are you feeling to finally be putting new music out into the world?
I feel good, I feel really good! There's a lot of hard-work, and planning behind the scenes that's goes into the release of an album, but I enjoy the process – it allows me to be creative in a different way which feels exciting! I always say to the people around me that in the run up to launch day, it's all about pushing things and doing as much as you can in preparation for the big unveiling, but once it's out there, you just have to let it go and trust that it will find its way to the people.
It can be hard sometimes to define the true essence of an album in words, but if you can, how would you best describe this collection of songs?
It's honestly like a mix tape of all of my thoughts and emotions. It's me trying to figure out how I got to where I am in my life today, rather than me commenting on a bunch of different situations that are impacting my current state of mind. And I say that because in the past I've written music thats been reflective of the moment, whereas these songs are quite specific and more about who I've been, who I am, and who I hope to be in the future.
Did that desire to want to tell your story in such a clear way, inspire the concepts and lyrics of these new tracks?
Yeah, I'd say so. I mean the subject matter of all these songs come from the millions of little ideas I have in my head (laughs). They start out as thoughts, and then through various conversations, they become full songs that evoke a certain energy or emotion. I very much enjoy using my music as a way to express all of the different aspects of my personality, so a song like 'Black Widow' is me kind of playing a larger-than-life version of myself, that's very forthright and confident, but then on 'First High' I'm almost the total opposite of that; I'm more reflective and introspective, as I reminisce on how my life used to be as a sort of care-free teenager, hanging out with my friends, and wondering what it would take for me to feel like that again as an adult. So yeah, there are a lot of things that I cover on this record, and I hope that anyone who listens is able to take away from it what they need to.
---
Nikki Lane x Black Widow
---
Joshua Home serves as lead producer on the album, how was it collaborating and working so closely with him?
Working with Joshua has been amazing! He's incredibly supportive and nurturing, and has really helped me to bring this album to life in a way that I almost never thought possible. He's obviously known for being this legendary rock star, and for writing some of the greatest rock songs of all time, but he really allowed me the freedom to follow my natural instincts, and to incorporate all of my musical influences, so that the record as a whole is true reflection of who I am. His talent adds a whole new perspective to my music, so I'm super excited for people to hear what we've been working on.
You've teased fans with a steady stream of single releases in the run up to the records official release – what have peoples reactions been to those songs?
It's been great! And historically it always has been, because I think that most of the people who understand what I'm trying to do (as an artist) like my music because it's representative of who they are, and what they have going on in their own lives. And I always appreciate the moments when I do get to learn of what songs are resonating with people, whether that be through social media or direct face-to-face contact. I think with this record though, I was more curious than I've ever been to hear everyones feedback, because of the fact that it does maybe stray a little outside the boundaries of what I've done in the past, which was something I felt I needed to do, but not to the point where it crossed over into being completely different, do you know what I'm saying? I'm very conscious that I don't ever alienate any of the the people I've loved and come to know to know as my fans. Finding that balance can be tricky sometimes but it's all part of the fun.
Do you ever feel a pressure when writing and recording new material?
I think the only pressure I ever feel when making an album comes from the thought of what it will do once it's released into the world. For me, I find the whole process (of making an album) so exciting! I enjoy being creative, I love being in the studio and I welcome the ways in which I can learn from all of the different people I work with. It's the workload on the back end of that feels like pressure to me…. if I ever felt an overwhelming sense of pressure when being creative, I probably wouldn't do it anymore.
In those moments when you do maybe start to feel a little overwhelmed, how you navigate your way through those anxiety-inducing emotions?
I guess it's all about keeping things in perspective. At the end of the day I can't control how other people are going to react, or feel abut my music. Having said that I do think the desire to want to be well received, can weight heavy though, especially when you're releasing art that's come from your heart. But if you can find a way to channel that energy into the work you're doing, then it can be a great way to motivate yourself to move past all of those fears.
---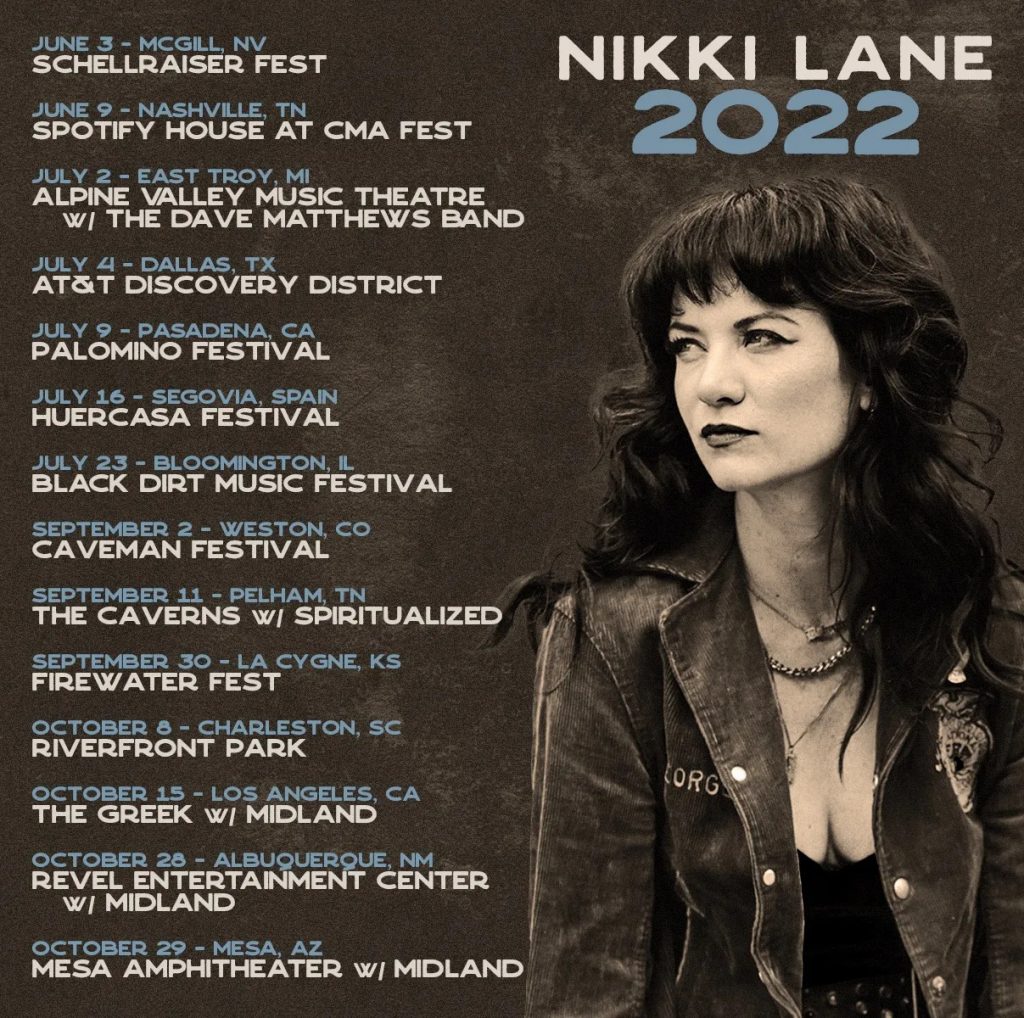 ---
You've been performing at various festivals and shows throughout the summer, and you're set to play more live dates before the end of the year – how have you found being back on stage after two years of being at home? And have you found there's a difference in how you perform post the pandemic?
It's been great – I love being on stage and performing live! There's always that little bit of expectation and pressure on my shoulders to deliver night after night, which can be a little much to bear sometimes, but I think I've gotten pretty good at channelling those nerves into my performances. It's funny that you bring up the pandemic, and you ask about the differences of performing now as opposed to maybe three or four years ago, because things are still a little weird when it comes to touring and playing live, and so for that reason I do feel little bit timid getting back out there fully. I mean don't get me wrong, I'm not saying I didn't get nervous before, because I did… I really did (laughs). But as I reflected on my career during the various lockdowns and times in quarantine, I realised that however nervous I feel or daunting the prospect is of standing on stage in front of large crowds of people, all of those feelings of trepidation and fear instantly disappear the moment I set out onto the stage – and I just feel liberated and free! It's an amazing feeling to be able to forget about the world around you and let loose for an hour or two each night, and I've missed it! So despite all of the nerves, I can't wait to get back out there properly.
Do you think its those times when you do have to push yourself to go outside your comfort zone, that make you a better and braver artist?
Erm… maybe?! Listen, I was raised with a pretty "fuck it" attitude so I don't scary easily (laughs). Nerves don't scare me, I don't allow them too! I'm always talking to my friends 16-year-old daughter about the trials and tribulations of life, and I say to her "look, you're always going to face challenges in your life, but don't ever be afraid of them, because they will make you a better, stronger person… and if you do ever feel scared, slap that poker face on and keep going!"
Is that message of being fearless something you hope listeners take away when listening to 'Denim & Diamonds' for the first time?
It is but… I think for me, writing this album afforded me a moment to self-reflect, and so I hope that people are able to do the same when listening to it. We're always constantly on the go, there's a million and one things we need to do, and we get so busy being busy that life just passes us by to the point where we can sometimes forget who we are, and the people we hope to be. Writing these songs kind of reminded me of who I am, and where I've been, so I hope others feel the same when listening to the record, and in turn they can reconnect with who they are and who they want to be in the future.
'Denim & Diamonds' is available to download / stream now.
---
Let us know your thoughts on Nikki Lane over on Twitter @CelebMix now!