ANTIBOY, the artistic project and utopian universe created by the late gender-fluid visionary artist, actor, and creative Harry Hains, releases a dazzling video for "One Love," an ode to acceptance.
Directed by renowned LGBTQ+ filmmaker Michael J. Saul, the visuals depict an avatar of Harry traveling through a captivating kaleidoscope of prisms and colors, fully immersing viewers in Harry's ideal world. Michael originally met Harry when he cast him in his film The Surface, a moving story of queer love and chosen family, getting to know Harry's spirit while he was alive.
Michael also created a 360° Fulldome version of the video, which premiered at the Fulldome at Dome Fest West in Costa Mesa, CA, on October 8.
Recorded with famed super-producers RedOne (Lady Gaga, Michael Jackson, Mariah Carey) and Fernando Garibay (Lady Gaga, Enrique Iglesias), "One Love" was written by Harry, queer alt-pop artist Sizzy Rocket, and Jane Badler, Harry's mother, who sings the uplifting bridge on "One Love."
Jane Badler is the driving force behind Harry's posthumous ANTIBOY project, and she has become a relentless advocate for LGBTQ+ equality, mental health, and the ongoing epidemic of drug addiction (issues that are often interconnected, and that Harry faced). Her personal experience as Harry's mother allows her to channel her grief into purpose – to help those who are struggling and to promote understanding and acceptance.
Jane and Harry's family have kept alive his music, art, and hopeful wish for a more inclusive world where we don't need labels. ANTIBOY's songs/videos such as "Insanity," which explores the struggle of mental health, and "Dream," which represents a celebration of differences and the beauty in uniqueness, starring transgender model and activist Andreja Pejic'.
CelebMix spoke with both Jane Badler and Michael J. Saul to find out more about ANTIBOY and "One Love."
JANE: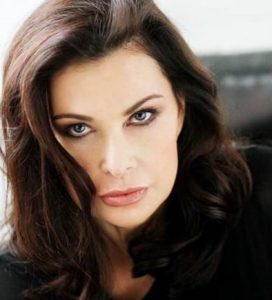 What does the message of "One Love" mean to you?
There is so much division in the world. So much hatred and fear based on race, gender, and the color of our skin. And yet on a spiritual level, we are all bonded by one consciousness, one higher being, and One Love.. If we open ourselves up to it there is nothing better than feeling love for those around you without judgment, without fear. Harry felt so strongly about a world where there was the freedom to be yourself without judgment. He created the name AntiBoy to express a world where we've come to realize the complete deconstruction of labels. I am so proud of him and his bravery through all his struggles.
Your vocals are featured on the bridge for "One Love." How does it feel to now be a part of the ANTIBOY universe musically?
I absolutely loved being part of the song 'One Love.' When Harry was alive, he never wanted me to sing on his songs. But I feel like he was smiling in the spirit world when I became part of 'One Love.' I thought long and hard before doing it as I wanted to make sure it was the right fit to bring the song to its full potential. I had a strong idea of what I wanted to say with the bridge. I felt that it could really add to the meaning of the song by talking directly to Harry and all those young people who have felt different and have struggled to fit in. The beauty and the power is right there inside of you and no one can take that away from you. I am so moved that I could be a small part of this very powerful song and message. It means everything to be able to carry on Harry's important message.
What have you learned about yourself through ANTIBOY's message?
I have learned of my passion for young people who are struggling to fit in. Because of Harry, I am drawn to helping and drawing attention to the persecution of persons in the LGBTQ+ community. I watched Harry struggle growing up and it was very painful to see a child be left out because of their preferences and uniqueness. There needs to be stronger education in the school system and spiritual practices to bring a broader outlook on gender roles and acceptance. I also feel Now more than ever I can see Harrys unique vision for the world and his beauty and love for all people. I am so excited to be releasing this phantasmic music video filled with beauty and fantasy.
MICHAEL:
You got to work with Harry on your film The Surface. Describe your experience working together and what drew you to Harry.
Casting Harry in 'The Surface' was a bit serendipitous. He was presented to me by my producing partner Heath Daniels after having a very difficult time finding the right actor for this very sensitive and introspective role. After spending some time reading Harry with other actors and talking with him, I was surprised at his calm and thoughtful nature. He really took this part very seriously and seemed to understand every direction I gave. Harry had the ability as an actor to very precisely and incrementally adjust his performance in very subtle and effective ways. When you watch him in the film, he tells a lot of his character's story in his eyes. They're magnetic.
Even in our off-camera moments I really enjoyed talking to him about his life and experiences as a model, actor, and his aspirations in music.
The music video for "One Love" was shown in a 360-degree immersive experience at Dome Fest West. Describe your creative process in utilizing technology to bring the music video for "One Love" to life in the dome.
For the last 6 years or so I've been learning the technology and creative techniques of working in 360° fulldome by directing and animating the feature dome experiences 'MESMERICA' and the upcoming 'BEAUTIFICA' with musician and composer James Hood (The Pretenders). So when I decided to create my own short fulldome film, the song 'ONE LOVE' just seemed a perfect match for this medium. Like any planetarium show, the format allows you to animate artwork in 360° around the audience. And with the addition of a fantastic song, it really immerses you in the world. By visualizing my interpretation of Harry's worldview and aspirations in this medium, I felt completely free to surround the audience with his joy. I think it's very effective.
What does it mean to you to now be a part of the ANTIBOY universe?
When Harry told me of his plans to create his musical alter-ego ANTIBOY I was very excited about it. I knew it would give him the chance to express himself without sexual or social boundaries…and he simply excelled in that world! He was the one who suggested I use the moniker MOONSPINNER as my alter-ego, which is why I've signed the video in that manner. Harry created a universe for himself, a world he hoped to be part of someday. I'm just thrilled to have been a small part of it.
"One Love" opens on dreamy, gossamer tones, flowing into a delicious melody full of creamy, dream-pop savors as Harry's deluxe, silky voice infuses the lyrics with luscious textures and bewitching nuances. A gentle, throbbing rhythm infuses the tune with an alluring cadence.
"All we need is one love / What we have is one love / What we have is four eyes / And two hips and four thighs / And two lips I dream of / We both want the same thing / All that we are chasing is one love."
The merging of the sumptuous music and the phantasmagoric video generates a gorgeously breathtaking audio-visual experience.
Follow ANTIBOY Instagram | Twitter | Facebook | Spotify