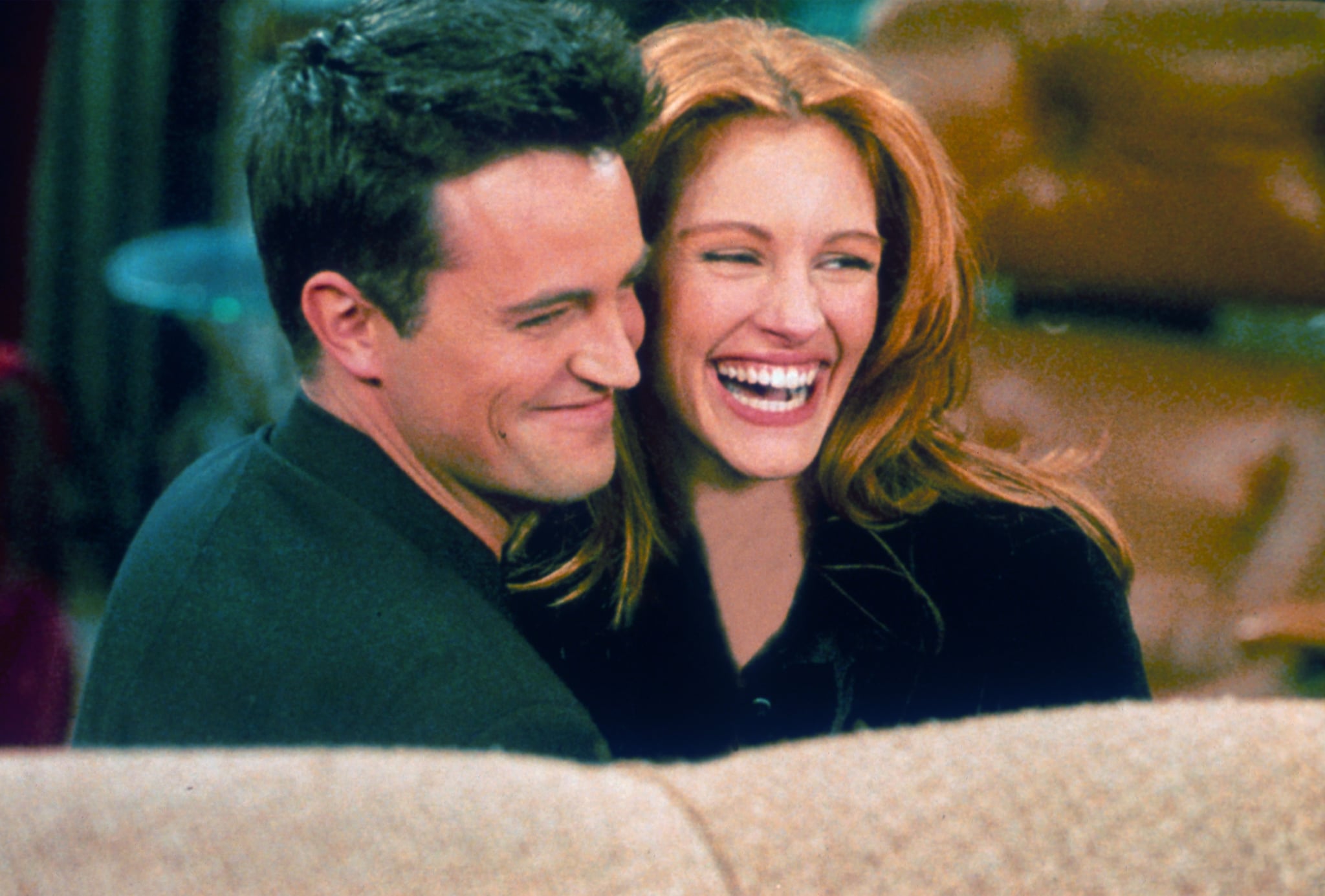 Matthew Perry's memoir "Friends, Lovers, and the Big Terrible Thing" dives into some of the most difficult parts of the actor's life. In it, Perry promises to get remarkably candid about everything from his struggles with addiction to certain questionable decisions he made — like breaking up with Julia Roberts. In an excerpt from the memoir published in the U.K.'s The Times on Oct. 25, Perry revealed he had a secret relationship with Roberts, but his low self-esteem made him break up with her.
In the excerpt, Perry shared that Roberts agreed to make a guest appearance on "Friends" — but she "would only do the show if she could be in my storyline," he wrote. In an effort to get her on the show, Perry sent Roberts a bundle of roses along with a note that read, "The only thing more exciting than the prospect of you doing the show is that I finally have an excuse to send you flowers." Per Entertainment Weekly, Roberts replied by asking Perry to explain quantum physics to her, and the next day Perry sent back an in-depth explanation about wave-particle duality.
In response, Roberts sent him a bunch of bagels, and the pair soon began a three-month relationship, often communicating through faxes. They even rang in 1996 with a romantic New Year's Eve together. "She made me feel like the king of the world," Perry wrote. Roberts also wound up guest-starring on the "Friends" episode "The One After The Superbowl, Part 2," which aired on Jan. 28, 1996 — playing a character who was obsessed with Perry's character, Chandler.
But Perry wound up breaking up with Roberts because of his own personal insecurities. "Dating Julia Roberts had been too much for me," he wrote. "I had been constantly certain that she was going to break up with me. Why would she not? I was not enough; I could never be enough; I was broken, bent, unlovable. So instead of facing the inevitable agony of losing her, I broke up with the beautiful and brilliant Julia Roberts."
Perry's memoir, which will be released Nov. 1, dives deep into the actor's struggles, which include addiction issues that led to 15 stays in rehab and 14 stomach surgeries, according to People. "I think they'll be surprised at how bad it got at certain times and how close to dying I came," Perry wrote. But by writing the book and airing out his secrets, Perry hopes to help people feel less alone. "My hope is that people will relate to it, and know that this disease attacks everybody," he added. "It doesn't matter if you're successful or not successful, the disease doesn't care."