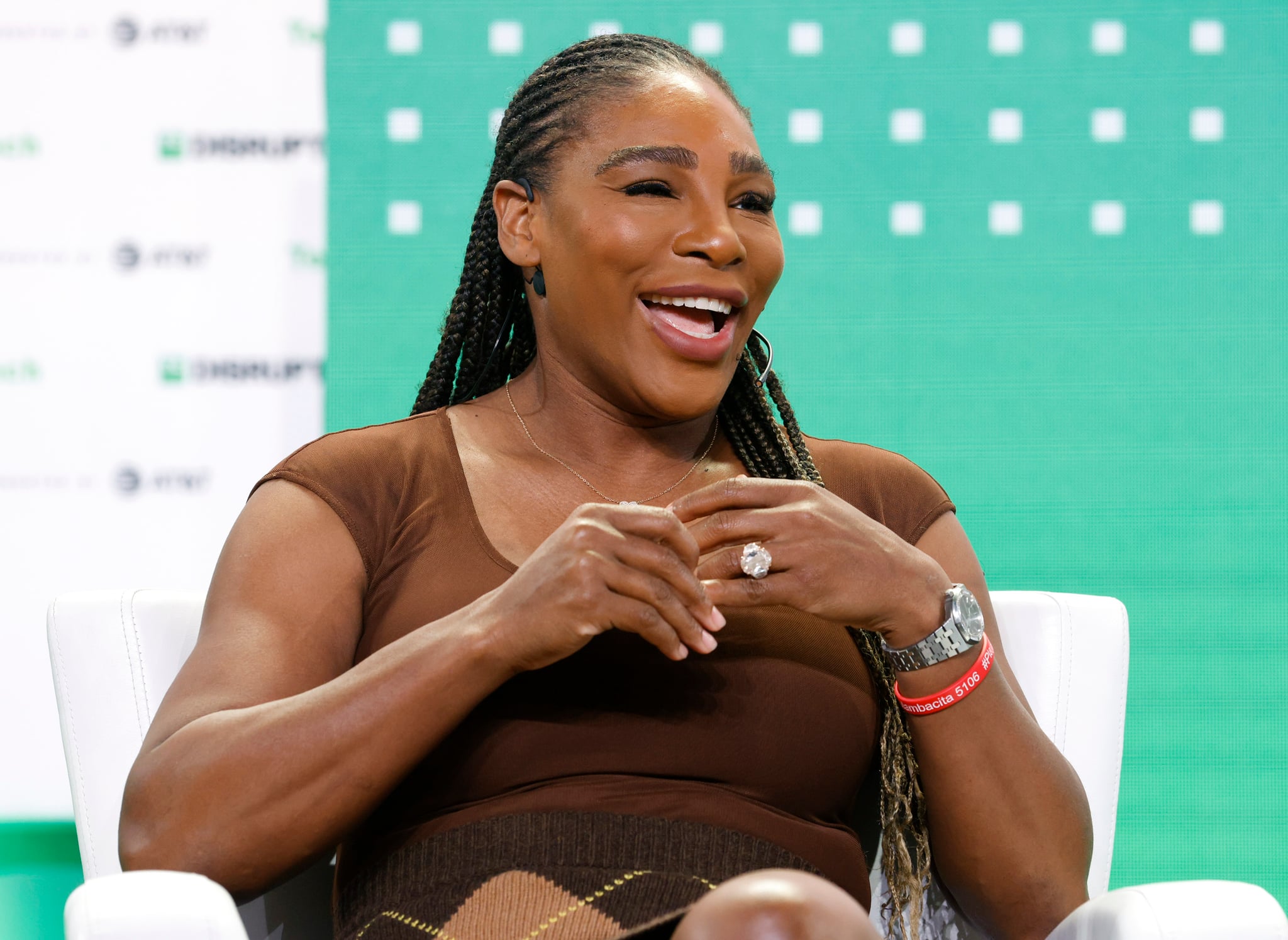 Image Source: Getty / Kimberly White
Not so fast: Serena Williams appears to be teasing a return to tennis after previously announcing her retirement in the September 2022 issue of Vogue. "I'm not retired," the athlete and entrepreneur said at the TechCrunch Disrupt conference in San Francisco on Oct. 19. When asked about the likelihood that she would play again, Williams said, "The chances are very high. You come to my house, I got a court. I got you."
The initial retirement announcement came after years of speculation. At the time, Williams said she wanted to focus on growing her family without having to compete while pregnant, as she did while expecting her first child, Olympia Ohanian. Williams also wanted to tend to her venture capital firm, Serena Ventures.
"I have never liked the word retirement. It doesn't feel like a modern word to me," Williams told Vogue, stating her preference: evolution. "I'm here to tell you that I'm evolving away from tennis, toward other things that are important to me."
This comes not long after Tom Brady famously returned to the Tampa Bay Buccaneers after announcing his retirement the month prior. "I've realized my place is still on the field and not in the stands," he said. Williams took note, and a month after the Vogue piece was published, she told Good Morning America, "I've just been saying that I think that Tom Brady started a really cool trend, you know."
Williams ended her career at 23 grand slam titles, just one shy of beating the record previously set by Margaret Court. Her final tournament was the US Open, which provided an opportunity to tie Court's record, but Williams went out in the third round. Williams said prior to the tournament, "Shoulda, woulda, coulda. I didn't show up the way I should have or could have. But I showed up 23 times, and that's fine. Actually it's extraordinary."
Even as the conversation around her retirement grew in the tennis world, Williams said she rarely spoke about the subject with those close to her, including her husband, Alexis Ohanian. In fact, her therapist was the only person she discussed her retirement with. "It's like a taboo topic," she said. "It's like it's not real until you say it out loud."
Williams was candid about her mixed emotions, and the sorrow she felt in saying goodbye to the sport she so passionately played. "One thing I'm not going to do is sugarcoat this. I know that a lot of people are excited about and look forward to retiring, and I really wish I felt that way," she said. Williams also expressed her frustration in having to choose between her career and family — a proposition often thrusted on women athletes, and not men.
"I wish it could be easy for me, but it's not."
"There is no happiness in this topic for me. I know it's not the usual thing to say, but I feel a great deal of pain," she said. "It's the hardest thing that I could ever imagine. I hate it. I hate that I have to be at this crossroads. I keep saying to myself, I wish it could be easy for me, but it's not. I'm torn: I don't want it to be over, but at the same time I'm ready for what's next."
In the piece, Williams reflected on on various moments in her career both small and monumental, including her early years of training with her sister Venus Williams, recently chronicled in the Oscar-nominated film "King Richard." "My whole life, up to now, has been tennis," she said. "I don't know how I'm going to be able to look at this magazine when it comes out, knowing that this is it, the end of a story that started in Compton, California, with a little Black girl who just wanted to play tennis. This sport has given me so much."
Though she indeed received one, Williams didn't expect a big sendoff. "I'm not looking for some ceremonial, final on-court moment. I'm terrible at goodbyes, the world's worst," she said. "But please know that I am more grateful for you than I can ever express in words. You have carried me to so many wins and so many trophies. I'm going to miss that version of me, that girl who played tennis. And I'm going to miss you."
Image Source: Vogue / Luis Alberto Rodriguez