[embedded content]
Britney Spears's musical comeback is finally — finally — here. In August, Variety reported the singer's collaboration with Elton John on a new version of "Tiny Dancer." The single, called "Hold Me Closer," was released on Aug. 26 — and fans can now listen to a catchy remix of the already very danceable track. The remix, helmed by DJ and producer Joel Corry, was released on Oct. 7 along with a trippy visualizer.
The official music video for the actual song dropped on Sept. 27. Helmed by Ukrainian music video director Tanu Muino, the video was shot in Mexico City and features choreography by Jacob Jonas. "This was an emotional one for me as I grew up with Britney," Muino, who also directed Harry Styles's "As It Was" music video, said in a press release received by POPSUGAR. "After seeing 'I'm a Slave 4 U,' I decided that I wanted to become a video director. Elton John is an icon that I and the world grew up listening to."
[embedded content]
"Hold Me Closer" — which debuted at No. 1 on Billboard's Hot Dance/Electronic Songs chart — is similar to John's recent hit with Dua Lipa, "Cold Heart," combining the chorus of John's iconic "Tiny Dancer" with verses of his 1992 song "The One."
After the release, Spears sent John a special video message that he shared on his own profile. In the clip, Spears (adopting a faux-British accent) says, "Hello, Sir Elton John. We are, like, number one in 40 countries. Holy sh*t. I'm in the tub right now, and I'm about to go have the best day ever." Alongside the video, John captioned his post, "Hey Britney!! Thank you for this message. You've made my day!! Hope everyone has the best day dancing to our song!"
The accompanying track art features childhood photos of both Spears and John, with the former appropriately dressed in a dance costume.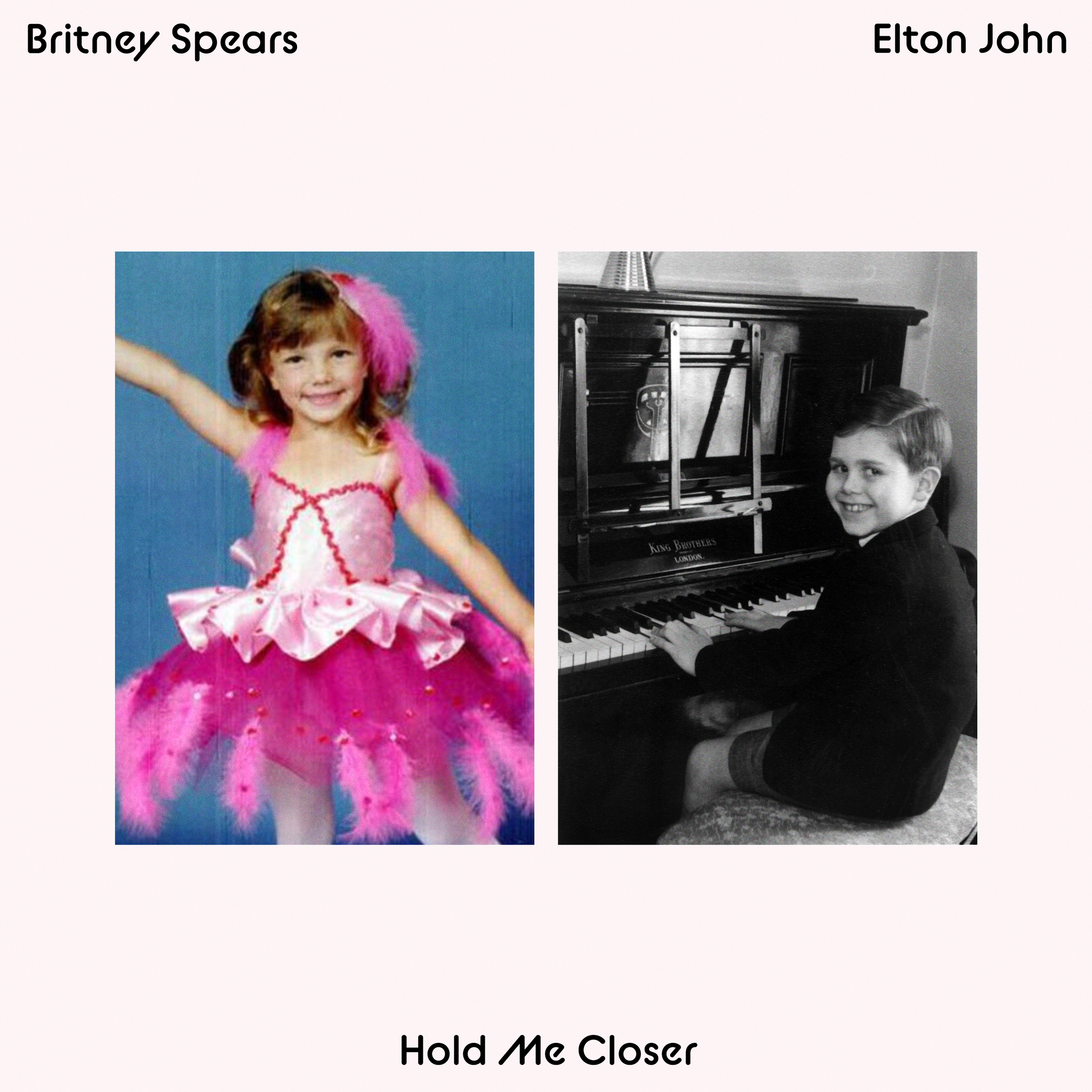 Image Source: Interscope Records
The duet's existence was initially confirmed on Aug. 2 by one of Spears's friends, Paris Hilton. In an interview with Paul Barewijk for his show "Paul Voor Je Neus," Hilton said she'd heard the song already. "It's gonna be iconic," Hilton said. "I just heard it a couple days ago in Ibiza, and it is, it's insane." On Aug. 26, Hilton celebrated the track's debut with an Instagram video of herself dancing, writing, "The Queen is officially back."
The official confirmation came several weeks after Spears shared a homemade video of herself singing a new version of " . . . Baby One More Time," expressing that she had been asking "for what I wanted for 14 years . . . a different version of 'Baby.'" On Nov. 17, 2021, a source informed People that Spears "wants to give her fans a new album."
However, the musician, who married Sam Asghari on June 9 and whose 13-year conservatorship ended on Nov. 12, 2021, has also been vocal on social media over the past year about her fears about returning to the recording industry. "After what I've been through, I'm scared of people and the business !!!! They really hurt me !!!!!!!" she wrote in an Instagram post shared on Jan. 3.
But now, she's finally reentered that world — and maybe the official new version of " . . . Baby One More Time" is next.