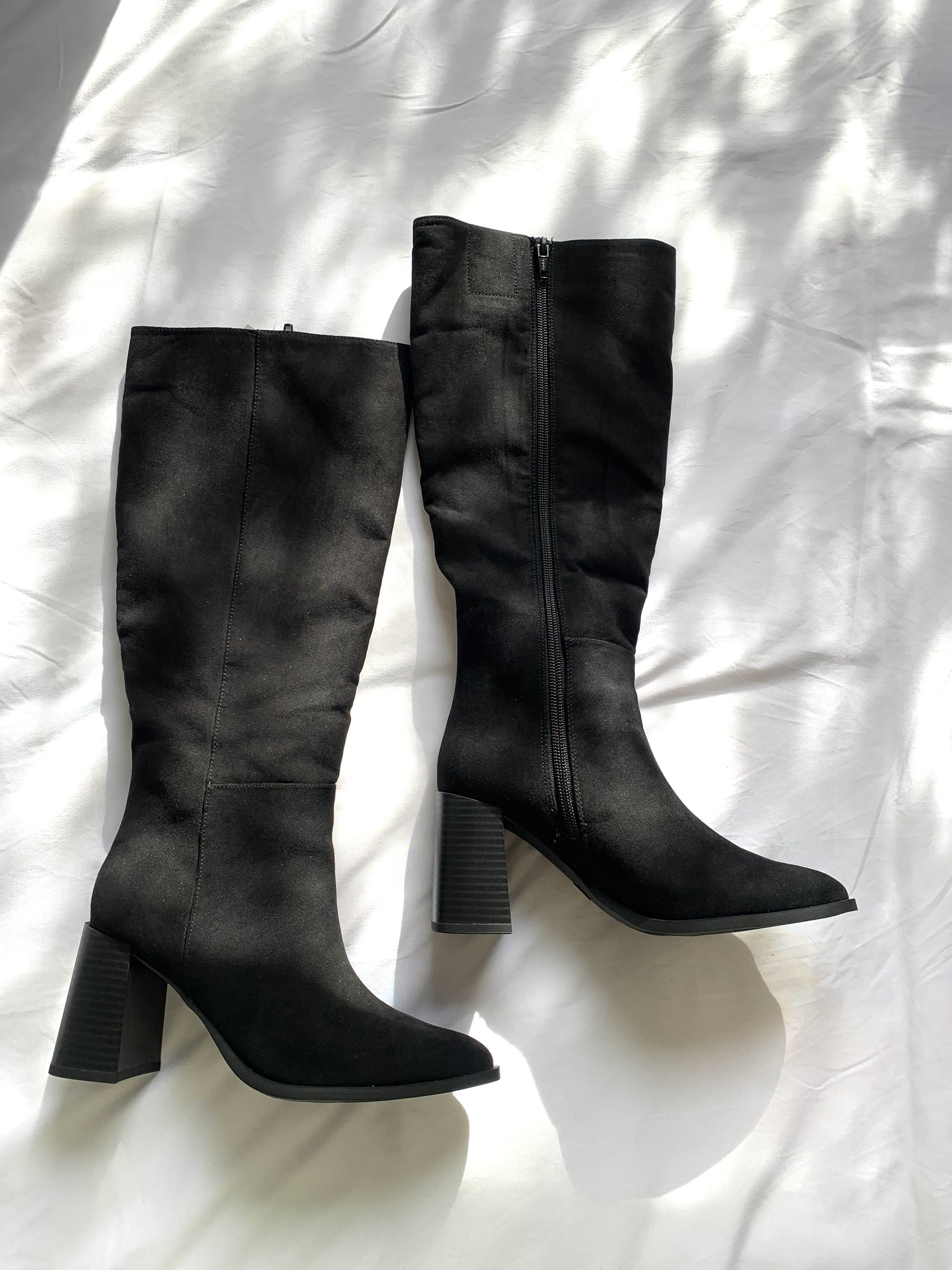 There are few things in this world that are as certain as fall fashion trends. While, yes, we're bound to see a few new styles spring up during the season (this year, we noticed the inclusion of reworked denim on the runways), there are undoubtedly a handful of autumnal fashion staples that are quite simply timeless. A few on the list: Loafers, trench coats, and — our personal favorite — knee-high boots (not to be confused with the now-trending over-the-knee boots).
Black knee-high boots have been a fall outfit go-to for as long as I can remember. What makes them stand out from over-the-knee or thigh-high boots is that they're tapered down enough for everyday wear. They have an air of class about them without being too dressy, but they're also a step above typical black booties. While I always know these boots are sure to resurrect once the the leaves on the trees begin to change color, I haven't had it in me to buy a pair. For years, I was (to my credit card's dismay) eyeing the popular Manolo Blahnik Pita Tall Suede Boots. While these shoes are stunning, they were also very much out of my price range (they clock in at $1,645.) On top of that, it seemed impractical to get designer boots since I planned on wearing them constantly and in all kinds of weather (cold, rainy, and snowy).
With those factors in mind, I decided to hold off on getting knee-high boots until I found a pair that was not only more affordable, but also made for everyday wear. And, much to my surprise, I found exactly that at Target. The A New Day Women's Eve Tall Dress Boots ($40) instantly caught my attention since they have the same sleek almond toe, soft suede fabric, and ideal knee height as the Manolo Blahniks. But, what really stood out to me is the price. These Target shoes are 98 percent cheaper (!!) than the designer pair. So, obviously, I bought them on the spot. The final verdict: Designer dupes or nothing. Check out my honest review of the affordable boots ahead.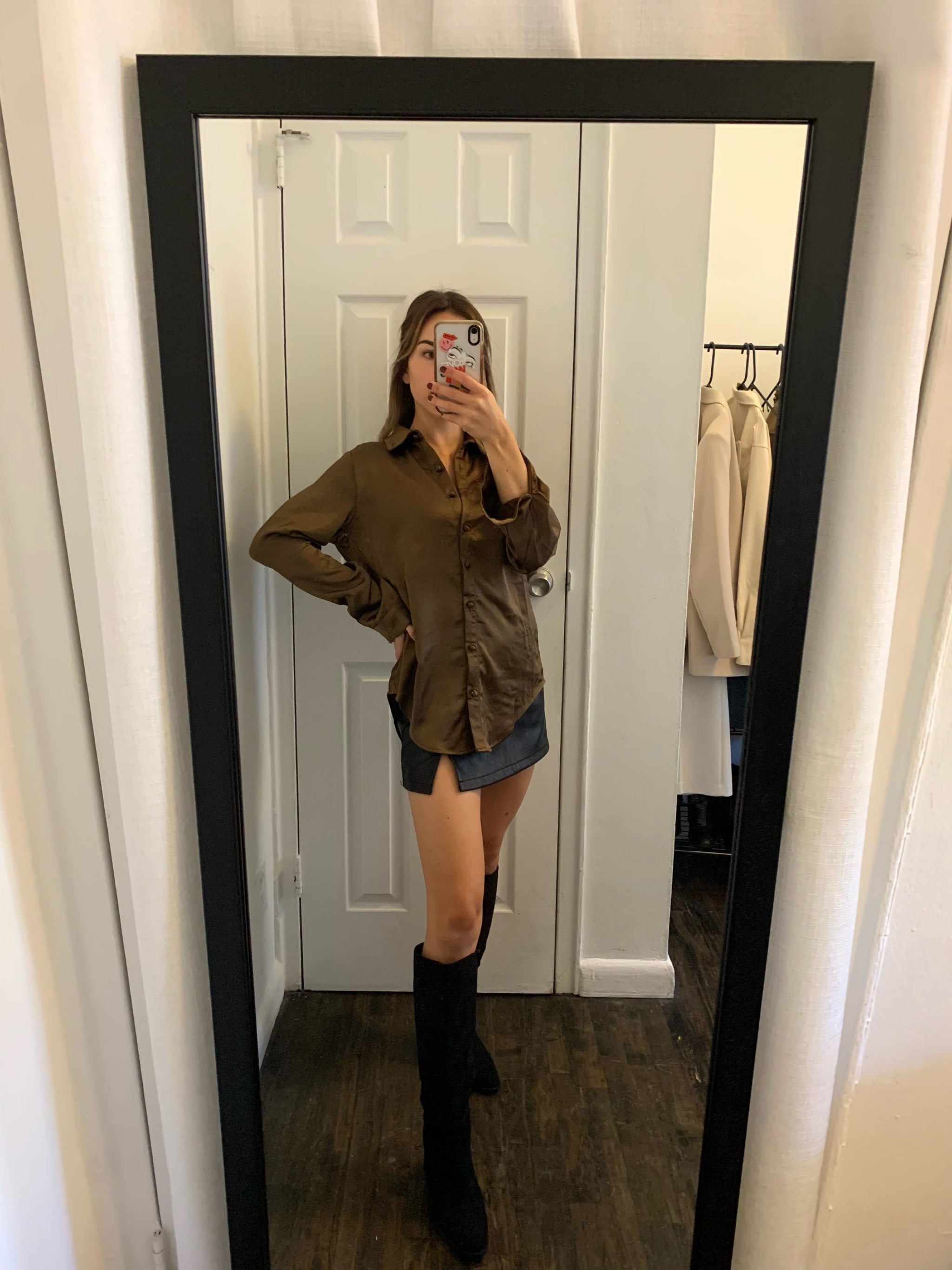 What I Like About the A New Day Women's Eve Tall Dress Boots
To state the obvious, these knee-high boots are extremely affordable compared to other options — besides just the Manolo Blahniks. Other brands with similar boots (like Jeffery Campbell, Free People, Vince Camuto, and Sam Edelman) all price their knee-high boots around $225 to $350, which is a big jump up from $40. While the quality of the suede can differ from brand to brand (from faux to real), I personally think black suede material looks the same across the board. In terms of these A New Day boots, this suede is not only soft, but also vegan, which is a big plus for me.
As for the style, I absolutely love the chunky block heel. It's about three inches high and super easy to walk in. It also adds the perfect amount of height without being too noticeable. Plus, these boots have memory foam insoles and soft inner linings, both of which add to their comfort. By far my favorite detail is that the boot height hits slightly under my knee cap, which means the material doesn't rub against my knees when I'm walking.
What's Worth Noting About the A New Day Women's Eve Tall Dress Boots
These boots have a snug fit, which means they aren't the best to pair with thick socks. If your feet get cold easily, I would suggest sizing up so you can wear thick or fuzzy socks underneath. Additionally, these boots are not made with warm material. While this makes them ideal for fall weather since they can insulate your lower legs without getting too warm, they probably won't be the best winter option if you live somewhere cold and snowy. But, you could always pair them with tights, high socks, or leggings to add extra warmth.
One more thing I will note is that some customers noted these boots were not wide-calf friendly. "I ordered my usual size in [Wide Calf] and it was a snug fit and definitely not for wide calves," one shopper wrote. "Sizing up may be helpful for thick socks but it probably wouldn't make a difference if you have big calves. Overall, the quality seems to be great for the 'suede' option."
Who These A New Day Women's Eve Tall Dress Boots Are Best For
These boots are best for anyone who wants to embrace the classic fall shoe trend without shelling out a ton of money. They're easy to pair with all kinds of outfits and look just as nice as designer options. They're also lightweight, easy to walk in, and very comfortable. Just note that if you have wide calves, these boots might not work for you.
Additional Details
These boots come in three colors: Black (faux suede), brown (chestnut faux leather), and Jet Black (black faux leather).
These boots feature zippers on the inside of each boot.
To keep these boots in good shape, the brand recommends wiping them down with a damp cloth.
Rating:
Image Source: POPSUGAR Photography / Lauren Harano