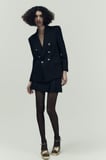 I don't know about you, but I'm celebrating the new year by continuing to do what I do best: shopping at Zara (duh!). No matter the season or array of fashion trends that are floating around TikTok, I can always turn to the brand for trendy and reasonably priced styles that will not only elevate my closet but also keep me clued in on the season's most popular fads – especially heading into a new year.
Fashion forecasters are predicting a wave of new aesthetics and trends that are primed to take over 2023 – and even a few that are expected to carry over from 2022, as well. From militant-chic styles like cargo pants and bomber jackets to feminine staples inspired by TikTok's balletcore trend – think comfortable flats and leg warmers – and even an array of fads that have been showcased on runways like metallic pieces and sheer aesthetics, fashion is bracing for perhaps its boldest year yet (stylistically, at least).
Whether you're hoping to completely reimagine your wardrobe this year or simply a fashion-lover excited to experiment with some new concepts, I've found that Zara's new-arrivals section is a great place to start any shopping spree – especially if you're eager to tap into these styles before they take shape. Ahead, browse through my picks for the best new arrivals to shop from Zara this January. From a '90s-inspired blazer to lavender-colored loungewear, all of these pieces will help to breathe new life into your wardrobe and embrace the year's biggest fashion trends with open arms.