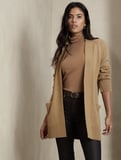 For us, we think the key to nailing winter fashion is all in the layering. Sure, it's important to have a few staple sweaters and coats incorporated into your closet, but the real trick is figuring out how to style all of those pieces together. Enter in the cardigan – aka one of fashion's most timeless wardrobe essentials that you could argue is a basic worth having on hand in any season (though it's especially great for wear in the winter).
Cardigans have long had a reputation for being more of an understated, even boring layer, but our latest online shopping spree proves that they're actually anything but. With the resurgence of other '90s fashion trends that have been revived over the last few months (arguably with the help of TikTok), we've fallen back in love with the classic cardigan style not only because of all the modern silhouettes you can shop, but also because there are so many creative ways to wear them. So long as you've got a white tank top, a great pair of jeans, and a cute cardigan, you have an outfit that can take you pretty much anywhere you need to go.
In honor of the new year, our team of shopping experts narrowed down 15 cardigans that we think are worth adding to your winter wardrobe ASAP. Whether you want a cozy cashmere piece, something vibrant and colorful, or a cropped cardigan that's cut in all the right ways, the options are essentially endless. Keep reading to shop our selects!
– Additional reporting by India Yaffe