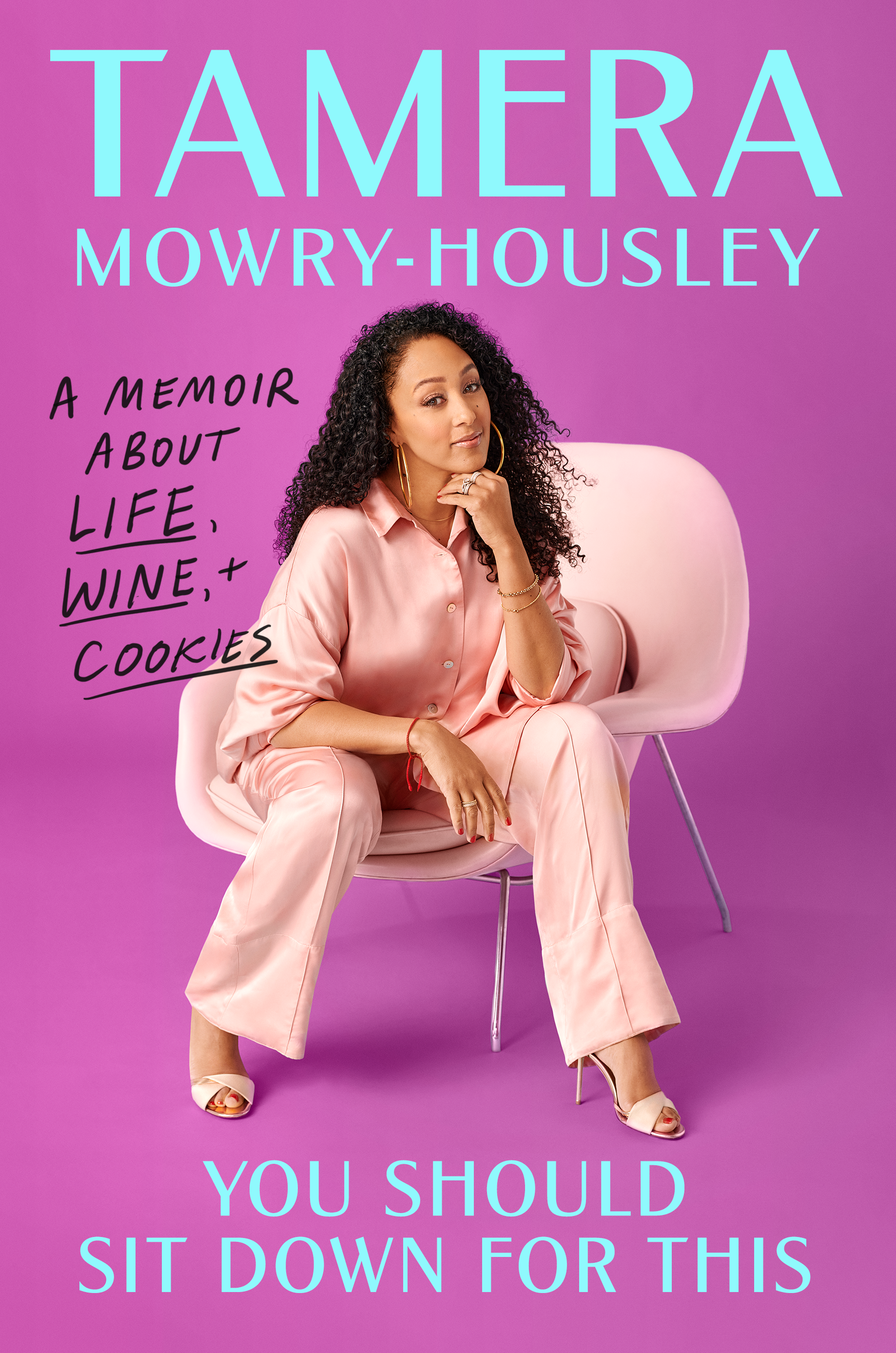 Two pivotal pop culture debuts changed this mixed-race millennial. The first was in 1990, when a fresh-faced Mariah Carey sang "Vision of Love" on "MTV Unplugged." And the second came in a newspaper ad about a brand-new show featuring twins separated at birth: "Sister, Sister."
Once "twin-damonium" hit ABC, I was stirring in my Blossom hat, flannel button-down, and baggy jeans. Tamera and Tia Mowry were bubbly brown girls with a hit TV show filled with hijinks and heart — and they had curls like me! Since then, I've felt a bond with the two, as their careers took them from "Sister, Sister" to "Twitches," Tia Mowry-Hardrict to "The Game," and Tamera Mowry-Housley to an Emmy-winning turn on "The Real."
And it's with that same familiarity that I devoured Mowry-Housley's new memoir, "You Should Sit Down For This: A Memoir About Life, Wine, and Cookies." In a way only she can, Mowry-Housley invites readers along for a ride through her life, from her early days in beauty pageants, "Sister, Sister" fame, and falling in love to each and every hallmark in her career. Talking with Mowry-Housley feels like completing my millennial Mount Olympus of interview subjects (after all, I did interview Mowry-Hardrict in years past).
As you read "You Should Sit Down For This," odds are you will reach for something: a glass of Prosecco, some mint Milanos, or even your phone, to text Tamera-isms in your group chat. And that familiar reflex was Mowry-Housley's goal all along. "I wanted people to feel like they were right there with me, and it was important that you got a sense of my personality," Mowry-Housley tells POPSUGAR. "You could hear my voice."
Mowry-Housley's bubbly spirit permeates her entire story, whether she walks you through the moment the "Sister, Sister" deal was signed or you go on one terrible date after another with her. There's always something to learn, no matter how tough — or even sweet — the lesson might be.
Of course, we have to talk about growing up curly. Although Mowry-Hardrict and Mowry-Housley became curly-girl icons back in the '90s, they were just trying to stay true to their identities. "When we did 'Sister, Sister,' we were just being ourselves," Mowry-Housley shares. "It never crossed my mind to straighten my hair until — this is what's interesting — until I got older. Because girls with curly hair weren't seen as sexy. But there's been a curly-hair movement for some time, which I'm so grateful because we were in that for a very long time."
It's easy to remember that era when all of my friends were getting blowouts every Sunday or begging their parents for relaxers. I wanted to look like my other teen icon, Aaliyah, which meant lots of trial and error with a blow dryer. And although she was already a megastar, Mowry-Housley also felt that pressure. Star or not, sleek strands meant sexiness and sophistication at the end of that decade and into the early aughts.
"Your hair wasn't seen as professional. It was seen as undone. It was seen as cute, not sexy, not grown," Mowry-Housley says. "That is the reason why we straightened our hair near the end of the series, because we wanted to be seen as sexy grown women."
But one day, she had enough and underwent the big chop. "I'll never forget this," she starts. "I did an audition, and quite frankly, I said, 'I am so tired of being married to the salon.' What I meant by 'married to the salon' is I felt like every two weeks I had to go for my hair. And then the more and more I went, the more my curls were damaged."
She shares that once she went natural, casting directors would say they "just couldn't get past" her hair in auditions where she wore it curly. "What the hell does that mean, you couldn't 'get past' my hair? Like my hair was a distraction? My hair is who I am," Mowry-Housley says. "But just like when I talk about the naysayers in the book, I wasn't going to let them define me. I was going to walk in my truth and live authentically, and I chopped off all my hair because my hair was damaged. And then I started this regrowth, and not only did my hair regrow, but I did."
Standing in her truth fundamentally grounds "You Should Sit Down For This." And part of that truth is Mowry-Housley owning her "goody two shoes" demeanor. It's another quality this writer can heavily relate to — when you're Black and a goody two shoes, criticism is always right around the corner. We talk about the moment in the memoir when a teen Mowry-Housley and Mowry-Hardrict leave their New York City hotel with no security guards and end up in a mob of fans. "There are just these rule followers in life. I'm one of them," Mowry-Housley says. "And I have these moments where I just don't want to follow the rules. Because I'm such a rule follower, I just allowed myself to do it. I just wanted to see. And it was a lesson learned."
And although Mowry-Housley serves her memoir with a healthy dose of sweetness — she literally urges readers to devour pages and cookies at the same time — she talks extensively about mental toughness, specifically putting on "mental boxing gloves" during her time on "The Real." She shows that nice girls are not doormats; they're not to be messed with.
"I've learned boundaries," Mowry-Housley shares. "You can set mental boundaries as well. I had to learn to say, actually being kind and loving is being wise and setting boundaries. My mental gloves are not going to let someone who doesn't know me, who has no intention of being kind — their main motive is just to be shady. I'm not going to let that affect me anymore. I'm not going to let that define me."
"My mental gloves are not going to let someone who doesn't know me, who has no intention of being kind — their main motive is just to be shady. I'm not going to let that affect me anymore. I'm not going to let that define me."
And Mowry-Housley attributes so much of that growth to her time on the show. "I was not prepared for people taking something that you've said that you did not mean at all and twisting it, turning it around, and then making assumptions based on that, then taking things out of context," she shares. "Who does that?"
Currently, Mowry-Housley has two Hallmark movies slated to release during the holidays — "Girlfriendship" and "Inventing the Christmas Prince" — which bring nostalgia and her bright spirit to the small screen. But can we expect to see Mowry-Housley on another talk show? "It has to be special," Mowry-Housley says. "It has to be uplifting. It has to be powerful in the way that we are really inspiring, helping people's lives." This lifelong Mowry-Housley fan is manifesting a talk show for her. "Who knows?" Mowry-Housley tells POPSUGAR. "Maybe with my sister."
As a household name for over 30 years, Mowry-Housley's memoir turns the dial to her story with zero static, and she's the sole narrator. Readers will learn that so much that they know about Mowry-Housley is her most authentic self, and they'll witness the punch and drive that made her such a success. And she places much of that success on her faith and four powerful letters: hope. "I always say, 'Shine bright like a diamond.' To become a diamond, you have to be under pressure," Mowry-Housley says. "You have to get through all of that pressure. So you have to get through the tunnel. You have to go through the mess. But there is hope. There is hope on the other side. You just got to get to the other side."
"You Should Sit Down For This: A Memoir About Life, Wine, and Cookies" came out on Oct. 4.