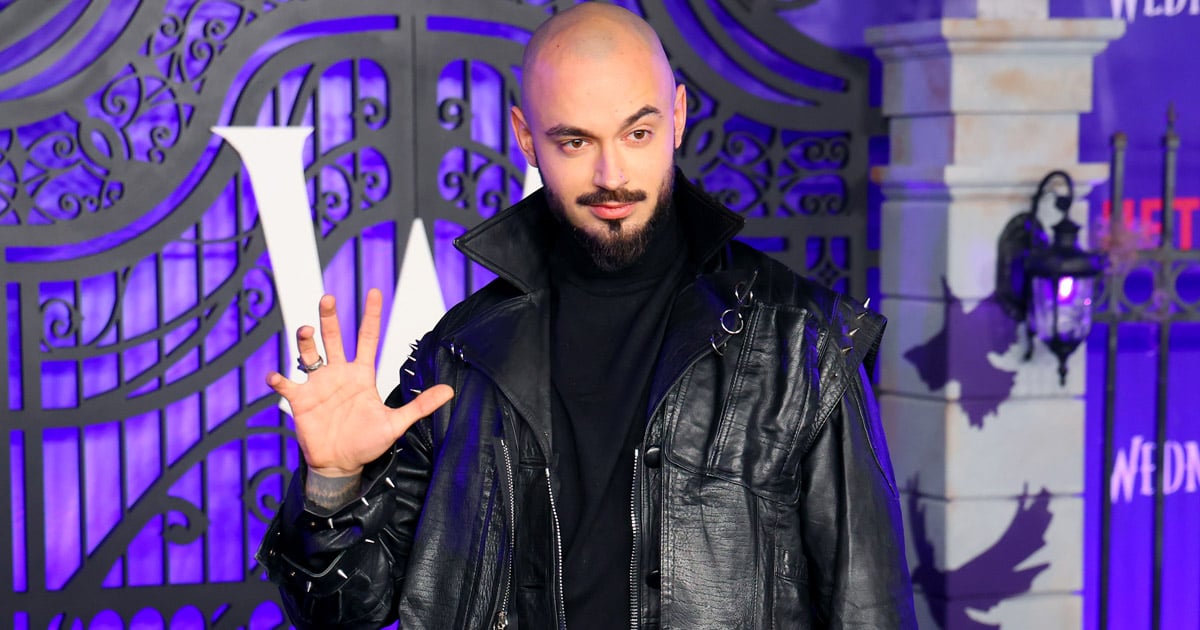 Monsters and spirits weren't the only things lurking in the shadows behind the scenes of Netflix's morbid horror–comedy, "Wednesday." As Jenna Ortega stomped through the grounds of Nevermore in her platform oxfords — solving riddles, decoding cyphers, and coming face to face with supernatural villains eager to initiate her demise — an unseen being was creeping nearby. Crouching on the floor in a head-to-toe VFX suit, professional illusionist and actor Victor Dorobantu scurried alongside Ortega as Thing, a disembodied human hand and longtime member of the Addams family.
In behind-the-scenes photographs shared by the streaming platform on Nov. 27, Dorobantu can be seen contorting himself into awkward positions to be part of the scenes, directed by Tim Burton, Gandja Monteiro, and James Marshall. At times, he walked crab-style behind Ortega as she delivered a macabre Wednesday. In other photos, he squeezed himself under desks to fit his hand through holes carved specifically for Thing, laid flat on the floor, knelt in the brush of the gloomy forest, and even immersed himself underwater while filming.
"Thing was created from scratch."
"The whole process was very hard. Thing was created from scratch," Dorobantu said in a joint red carpet interview with Gayety and Pride, adding that Thing's personality came to life through a combination of "gestures, body language, morse code." "We just improvised and we tried to make it natural."
As far as making his hand look undead, Dorobantu actually wore a prosthetic complete with elaborate stitching. "It was so funny, because the Thing language was just made up on the day," Ortega told Screen Rant. "Tim [Burton] wanted it to be an actual actor like they did in the '90s films, so it was this magician named Victor [Dorobantu]. He would wear a full blue suit, and he would hide behind walls and underneath beds. Then they built this prosthetic on top of his hand so that it looked like a wrist knob, and he would walk around. Tim really liked his mannerisms, and he would spend hours in hair and makeup every day just getting that hand on."
"Wednesday" was Dorobantu's first major Hollywood project, a show he is proud to be part of with such an iconic cast and crew. After booking the role, the actor shared his gratitude on Instagram. "I can't describe how happy I am," he wrote in September 2021. "Dreams really come true."
See behind-the-scenes photos of the magician on the "Wednesday" set ahead.