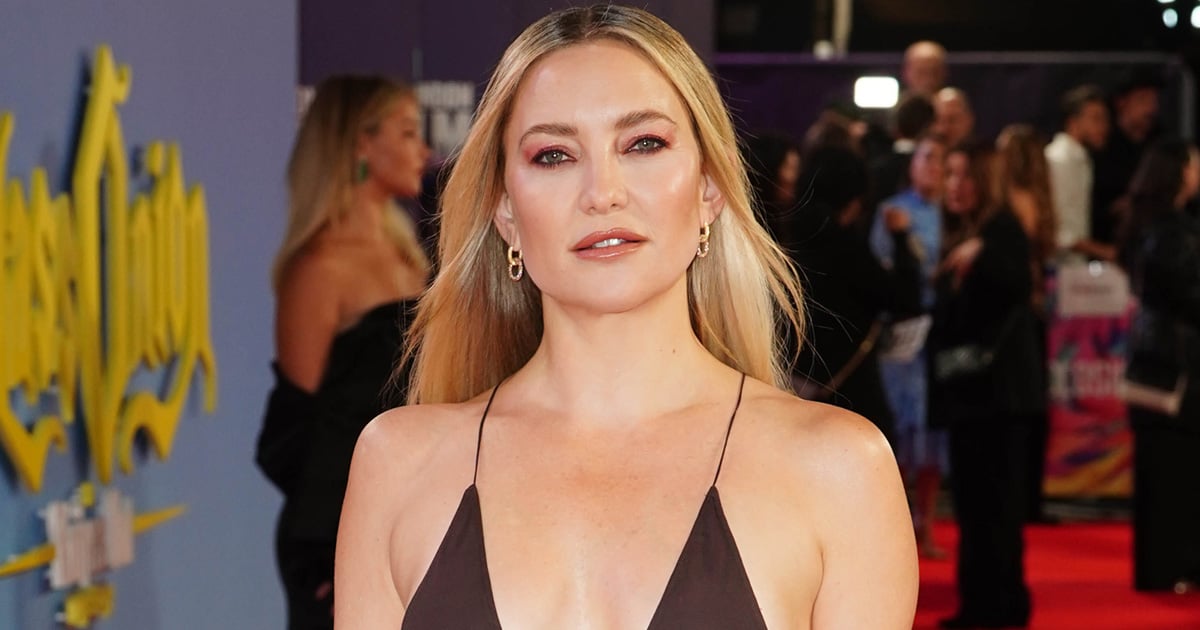 Kate Hudson made a case for an underappreciated Y2K style trend on Sunday. Attending the premiere of "Glass Onion: A Knives Out Mystery" at the BFI London Film Festival on Oct. 16, Hudson wore a sheer, two-tone Saint Laurent dress in the widely forgotten color combo of chocolate-brown and gold. Once the go-to complementary colors for reality stars and runway models, we wouldn't be surprised if the warm shades made a comeback thanks to the actor resurfacing the trend.
Styled by Sophie Lopez, Hudson walked the red carpet in a slightly sheer dress with colorblock panels. The dress featured spaghetti straps and a plunging neckline culminating in a diamond-shaped panel in gold at the midriff. From there, the dress flowed into a dark-brown skirt pleated with strips of gold on either side of the waist.
Hudson paired the dress with a luxurious brown fur coat, which she wore off the shoulder to share a glimpse of the delicate gold panel running across her back. Hudson also had on gold hoop earrings, matching rings, stacked bangles, and peep-toe platform heels in a rich mahogany red.
While Hudson has had some iconic fashion and beauty moments over the years, she's not the only member of her family with an impressive sense of dress: on Oct. 2, Hudson's mom, Goldie Hawn, gave her best Cinderella to play dress-up with her granddaughter, Hudson's 4-year-old, Rani Rose. Hawn's longtime partner, Kurt Russell, was dressed as a prince.
Y2K style has made a powerful comeback in recent years, but Hudson's latest red carpet look is a reminder that there are still trends from the era waiting to be revived. See Hudson's gorgeous dress from all angles ahead.