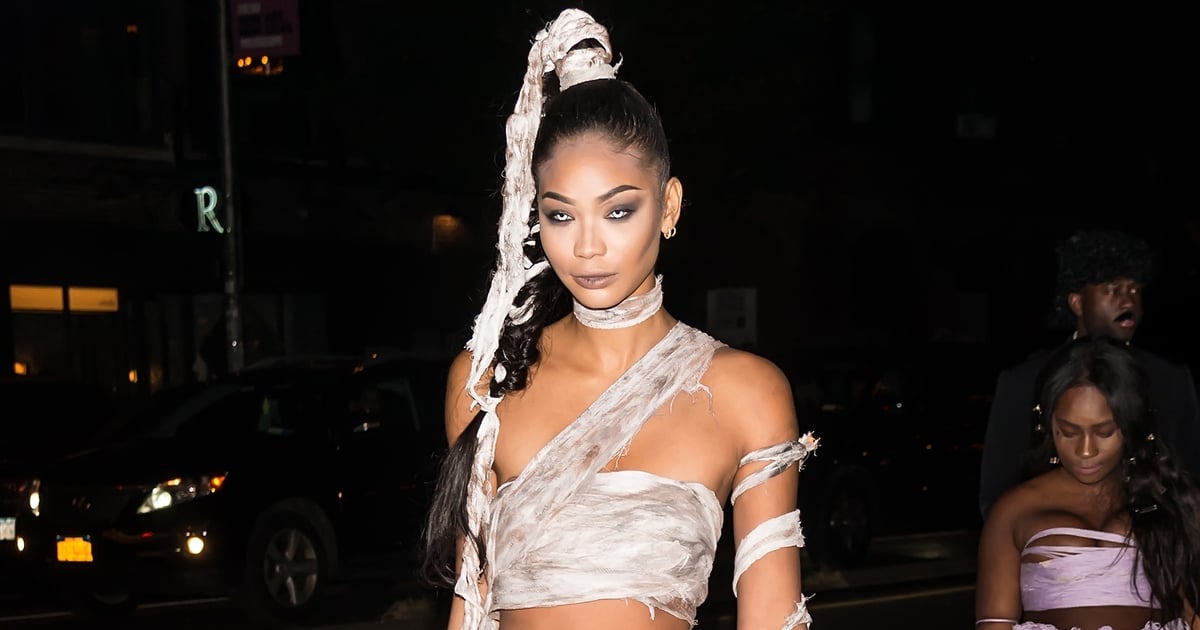 As POPSUGAR editors, we independently select and write about stuff we love and think you'll like too. If you buy a product we have recommended, we may receive affiliate commission, which in turn supports our work.
Instead of purchasing an expensive Halloween costume this year, consider making your own mummy look as a DIY project that doesn't call for more than a few key tools. Chanel Iman memorably wore a Mummy costume at Heidi Klum's annual star-packed Halloween party, opting for a treated and dyed gauzy fabric that she wrapped creatively around her body.
The supermodel incorporated the material from head to toe, weaving it through her high ponytail braid, styling it as a choker, twisting it around her arm, and even creating makeshift boots by layering it from her thighs down to the soles of her shoes. Iman added spooky makeup, including a smoky eye, washed-out lip, and darkly defined contouring, plus simple delicate hoop earrings and a white manicure for final touches.
Of course, you can choose to put your own tweaks on the costume, creating your own silhouette with your chosen cut-up cloth. All you need to start are a bunch of old tees or a fresh T-shirt pack, a ruler, scissors, camisole, and leggings or biker shorts.
Before you start, you should stain your shirts as you see fit, whether it's to achieve the appearance of fake blood or dirt. Then, get dressed in your undergarments (pieces that match your skin tone work best) and follow the step-by-step instructions ahead to get your mummy material prepped for its transformation.
Scroll on for another glimpse at Iman's Mummy costume, and pick up a pack of T-shirts to create your own.
How to make a DIY mummy costume
Starting with one T-shirt, cut off the sleeves at the seam and prepare to measure out your lines. Mark 1.5-inch strips across the T-shirt horizontally using a pencil, going all the way up to the armpit seam. Using the lines as a reference point, cut the T-shirt into strips, then cut each strip at one end to make one, longer strip. Knot the strips together to create an even longer strip (we suggest using about five pieces per strip). Once you have your strips, start by tying a knot at the bottom of the leg and continue all the way up, wrapping the fabric around your torso. Continue to cut more strips using your T-shirts and employ the same directions to cover your other leg and your arms.