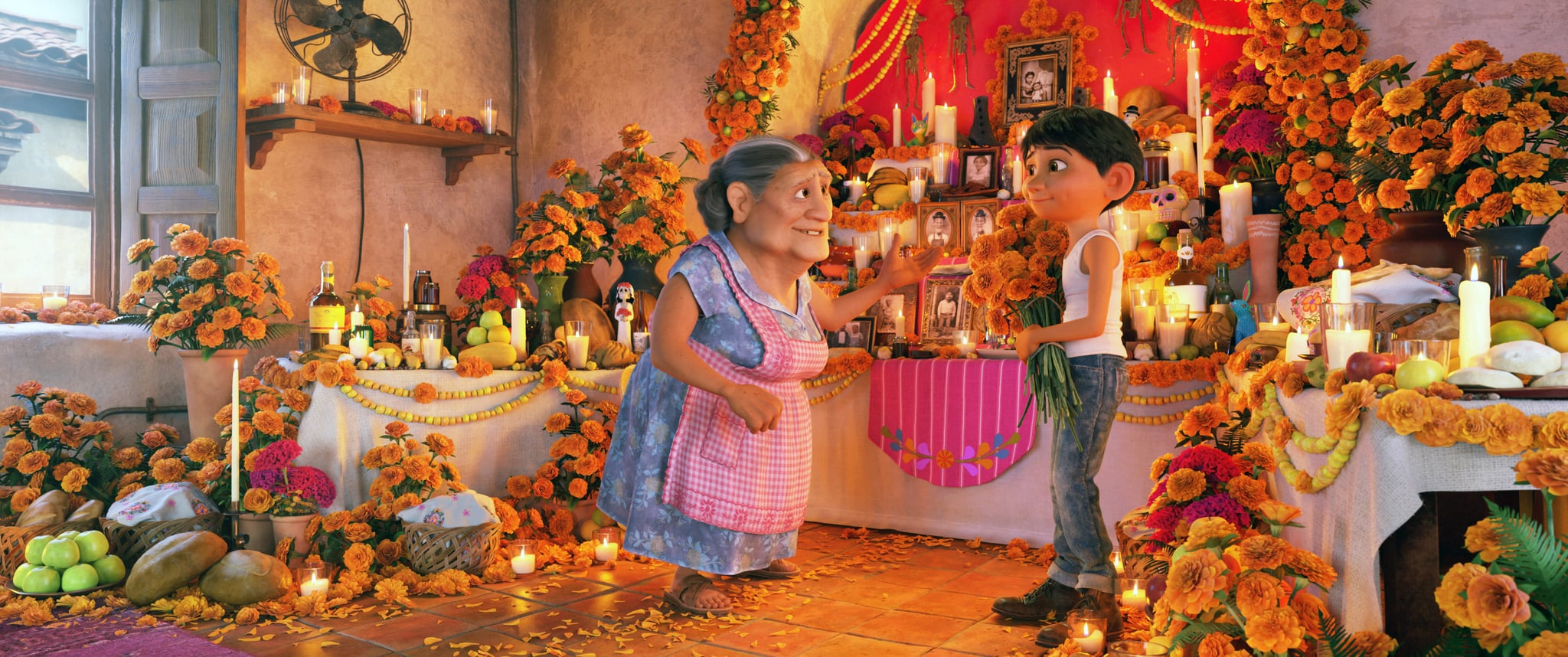 Why are we still adoringly watching Disney/Pixar's film "Coco" five years after its release date? A film centered on the Mexican tradition of Día de los Muertos reminds us of the beauty of destigmatizing a holiday that's rooted in appreciating death — a topic largely avoided in many Latine/x American households. "Coco" became a trigger of inspiration for Mexican Americans and Latine/xs as we navigate intergenerational healing. The animated film follows protagonist Miguel throughout his own journey of ancestral healing, as he goes against family tradition as an aspiring musician and along the way learns the deeper significance of Day of the Dead. "Coco" depicts the importance of ancestral veneration work while centering the reclamation of taboo spirituality. Its profound impact inspired Latine/x millennials and Gen Zers to reconnect with the true meaning of the holiday. A day not to mourn, but to celebrate the afterlife.
Throughout "Coco," Miguel navigates the internal struggle of defying family traditions while trying to appease his family's expectations, similar to us. Like many children of Latine/x immigrants, we are navigating the barriers of assimilation while wanting to make our parents proud but still figuring out how to live life on our own accord. We're constantly walking a nearly impossible balancing act of conforming and nonconforming to cultural projections and societal expectations. ¡Que pesado! Unfortunately, Día de los Muertos has been culturally misappropriated as just another Halloween prop here in the states, at times becoming a costume to dress up as. You're guaranteed to come across the occasional sexy catrina skeleton partygoer at a Halloween party because our cultural Day of the Dead rituals have been positioned as a moniker to profit off to non-Latinx folks. To dare label Día de los Muertos as the Mexican version of Halloween is harmful and painfully waters down the true significance of why we paint ourselves as calaveras (skulls) and rock floral coronas (crowns) on our heads con orgullo.
The creators intentionally destigmatize the fear of connecting with the dead through its playful storytelling, normalizing the idea that connecting with the dead doesn't make us crazy and it's also not a demonic act.
Symbolically woven into "Coco," the characters Miguel encounters in the afterlife are depicted as skeletons. The creators intentionally destigmatize the fear of connecting with the dead through its playful storytelling, normalizing the idea that connecting with the dead doesn't make us crazy and it's also not a demonic act. In actuality, the holiday is rooted in Indigenous Mesoamerican philosophical origins. Let it be known its significance trumps its minimized perception by American culture as a glorified day of sugar skulls. Día de los Muertos acknowledges the cycles of life and death by keeping the image and honor of the dead alive, which is why we paint ourselves in colorful expressions as we welcome the spirits of the dead into our homes for a special night of celebration. It further destigmatizes the fear of ghosts and shows how deeply rooted the supernatural is in Mexican culture and mythology.
Sure, not everyone involved in the making of Disney's "Coco" was Latine/x, but the film broadcasted a much-needed lesson on the true sacred meaning of why we celebrate Día de los Muertos in the United States, helping non-Latinxs understand that this day is far beyond an opportunity to drink tequila and eat tacos. The traditions and oral history of the holiday are not lost in Mexico, where cemeteries nationwide are decorated and packed with living ancestors celebrating their muertos (dead loved ones). As a spiritually awakened group, many of us are reclaiming old ways and building new traditions as first-generation Latine/xs, which is why "Coco" fondly pulls at our heartstrings and makes me mocosa every time I watch it in adoration. I am reminded of the true honor it is to venerate the legacy of my passed-on ancestors.
Although Día de los Muertos is largely connected to Mexican culture, allow this holiday to inspire you to cultivate your own ancestral practice as part of your spiritual healing journey that challenges and destigmatizes the negative misconceptions surrounding death and spirits. Like Miguel in "Coco," don't be afraid to break generational curses and rewrite the legacy of your ancestors. For many of us doing this decolonial healing work of reclaiming, we find ourselves seeking answers to the unknown with the intention of healing our family trauma and asking for guidance from our muertos in the spirit realm.
"Coco" has given us inspiration and hope to continue this often lonely and misunderstood journey that comes with stigma as we break Eurocentric patriarchal norms. Pray with your muertos, talk to your muertos, and give back to your muertos, not only on Day of the Dead but year-round, and watch the magic unfold.