Don't Worry Darling is a 2022 American psychological thriller film directed by Olivia Wilde with a screenplay by Katie Silberman. The 1950s sci-fi thriller, released in the US on September 23, 2022, by Warner Bros. Pictures, features an intriguing, period-appropriate, beguiling soundtrack crafted by an astronomical roaster of talented musicians, including artists such as Ray Charles, Little Willie John, Harry Styles, Florence Pugh, Ella Fitzgerald, The Chords, and more.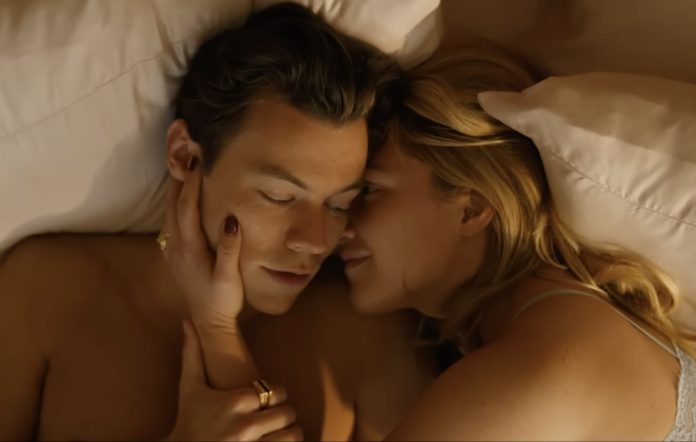 Don't Worry Darling is based on a story by Carey Van Dyke, Shane Van Dyke, and Silberman, featuring an ensemble cast including Florence Pugh, Harry Styles, Gemma Chan, Chris Pine, Olivia Wilde, KiKi Layne, and Nick Kroll. It premiered at the 79th Venice International Film Festival on September 5, 2022, and received mixed reviews; critics praised Pugh's brilliant performance, stellar cinematography, and production design, but criticized the writing and direction.
As the synopsis reads: "In the 1950s, Alice and Jack live in the idealized community of Victory, an experimental company town that houses the men who work on a top-secret project. While the husbands toil away, the wives get to enjoy the beauty, luxury, and debauchery of their seemingly perfect paradise. However, when cracks in her idyllic life begin to appear, exposing flashes of something sinister lurking below the surface, Alice can't help but question exactly what she's doing in Victory."
Watch the official trailer below:
Don't Worry Darling, filmed in Los Angeles from October to February 2021, is a visual feast, offering a tour of some of the best mid-century architecture in Palm Springs, The Kaufmann Desert House, Canyon View Estates, The Stuart at Sierra Madre Villa in Pasadena, Cicada Restaurant and Lounge, The Palm Springs Art Museum, La Quinta Resort & Club, and beyond.
Not only does the psychological thriller showcase encapsulating exteriors, it even takes you onto the site of some locations that you can only glance at from a distance in reality. Despite being surrounded by heated behind-the-scenes controversies, accompanying gossip, allegations, and all the buzz-worthy drama, along with some major content warnings, Don't Worry Darling has reaped overall positive feedback from both fans and critics. What we're trying to say is that a genuinely fantastic movie idea that had a potential to become significantly impactful, if executed correctly away from the overshadowing, clouding drama, remains average. And it's a shame.
Aside from that, the soundtrack of the movie, curated by Bill Bernstein, successfully strums the heartstrings of the audience, with its gorgeous orchestration, chords, buoyant percussions, and lyrics masterfully swaying them away. While it perfectly sets in the 1950s—where the movie plot plays—it still has a tinge of modernism and breezy freshness to it. It also swings from romance to an eerie, unsettling melody that sets up the mood and leaves you with goosebumps.
The soundtrack also features an original song titled, "With You All The Time," performed in the film by the lead actors themselves—Harry Styles as Jack Chambers and Florence Pugh as Alice—as well as an original score composed by Academy Award-nominated composer John Powell. The overall tracklist and background feel emotionally impactful and like something that will sweep your hearts away almost instantly. Listen to "With You All The Time" below:
As reported by Variety, Styles apparently minted the first demo of the song in just five minutes. According to him, he aimed to create "something that could be both sweet and creepy, entirely dependent on the context." As credited to the artists' respective characters in the film, Alice and Jack, the song is primarily instrumental, with some distorted samples of Pugh's voice playing over frightening, eerie music played on a grand piano.
The full soundtrack is now available to stream on Spotify! Look at the full list of songs from Don't Worry Darling (Original Motion Picture Soundtrack) below:
Title
Artists
The Right Time
Ray Charles
Bang Bang
Dizzy Gillespie
Where or When
Benny Goodman Trio
Comin' Home Baby
Mel Tormé
The Oogum Boogum Song
Brenton Wood
Tears on My Pillow
Little Anthony & The Imperials
Twilight Time
The Platters
Sh-Boom
The Chords
Need Your Love So Bad
Little Willie John
Sleep Walk
Santo & Johnny
You Belong To Me
Helen Foster and the Rovers
Someone To Watch Over Me
Ella Fitzgerald
With You All the Time (from "Don't Worry Darling")
Alice and Jack
(Florence Pugh and Harry Styles)
The Don't Worry Darling (Score from the Original Motion Picture Soundtrack), with a background score by John Powell, is available on Spotify! Check below:
Don't Worry Darling is out in cinemas now. Don't miss out!