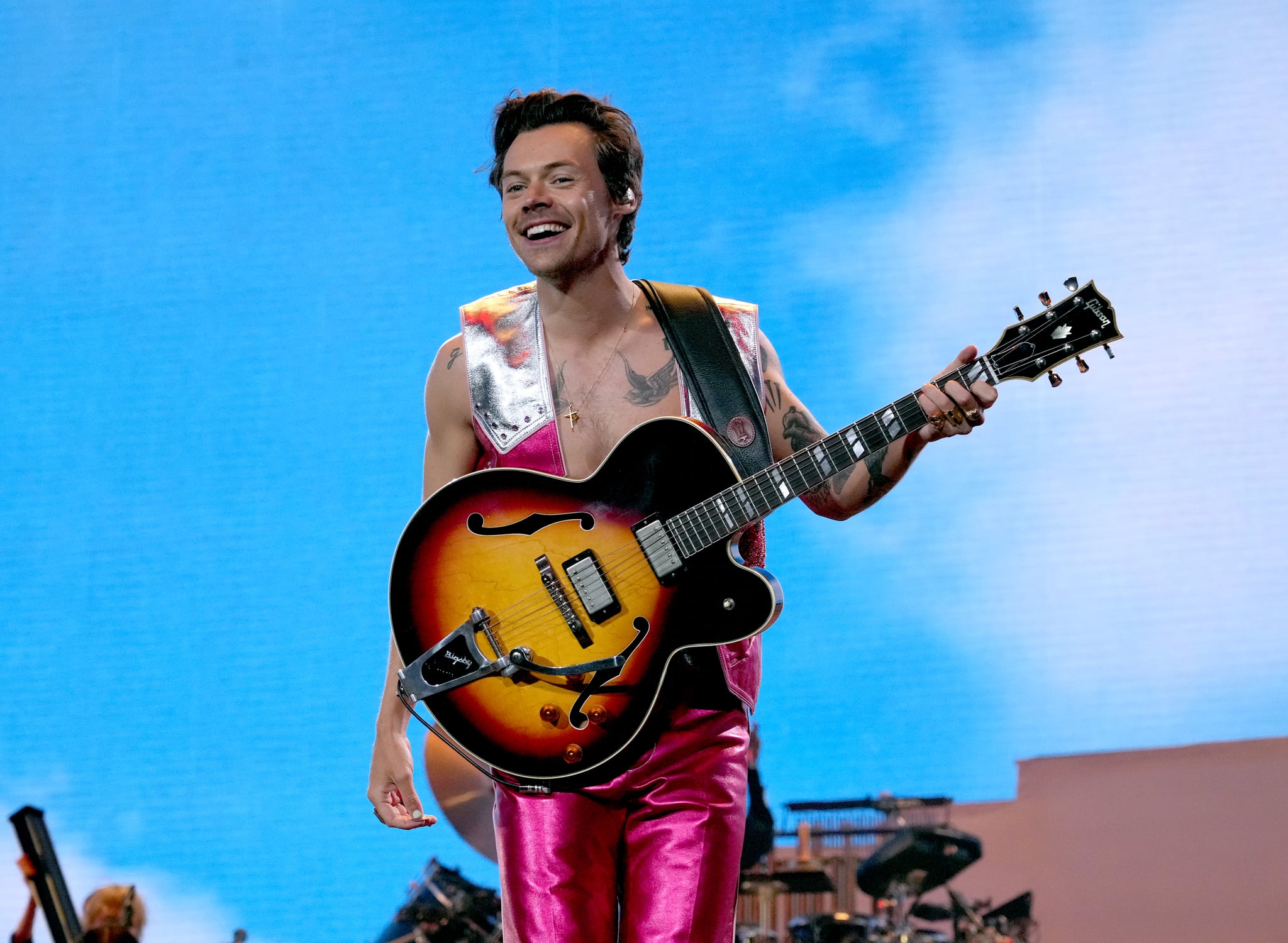 It's officially the best time of year for music-lovers. Spotify has released its 2022 Wrapped experience, and audio enthusiasts are already flocking to the streaming app to find out what their most-streamed songs mean about their personalities. But it's also time to see what the most-streamed songs of the year globally say about humanity as a whole — or about Spotify's 456 million listeners across 184 countries, at least.
Along with personalized playlists for all its users, Spotify also revealed its lists of 2022's most-streamed songs, albums, and artists on Nov. 30 as part of Spotify Wrapped. While 2021 packed some surprises, like music newcomer Olivia Rodrigo snagging the most-streamed song of the year with "Drivers License," 2022's lists were a bit more predictable, with long-established top artists holding down prime spots on the top lists.
Harry Styles ruled 2022; the lead single of his album "Harry's House," "As It Was," was the year's most-streamed song globally. "Heat Waves" by Glass Animals, "Stay" by The Kid Laroi and Justin Bieber, "Me Porto Bonito" by Bad Bunny feat. Chencho Corleone, and "Tití Me Preguntó" by Bad Bunny followed in that order.
Considering how many times Bad Bunny appears on the list of the most-streamed songs, it should come as no surprise that he was 2022's most-streamed artist overall, with his album "Un Verano Sin Ti" also topping the most-streamed album list.
Artists like Taylor Swift, Drake, The Weeknd, Drake, BTS, and Doja Cat also had amazing years, appearing on multiple most-streamed lists. Read on to find 2022's most-streamed songs, artists, albums, podcasts, and audiobooks, according to Spotify streams.
Most-Streamed Songs Globally
"As It Was" by Harry Styles
"Heat Waves" by Glass Animals
"Stay" by The Kid Laroi and Justin Bieber
"Me Porto Bonito" by Bad Bunny feat. Chencho Corleone
"Tití Me Preguntó" by Bad Bunny
Most-Streamed Artists Globally
Bad Bunny
Taylor Swift
Drake
The Weeknd
BTS
Most-Streamed Albums Globally
"Un Verano Sin Ti," Bad Bunny
"Harry's House," Harry Styles
"Sour," Olivia Rodrigo
"=," Ed Sheeran
"Planet Her," Doja Cat
Most Viral Artists Globally
Taylor Swift
The Weeknd
Bad Bunny
BTS
Lana Del Rey
Most Popular Podcasts Globally
"The Joe Rogan Experience"
"Call Her Daddy"
"Anything Goes With Emma Chamberlain"
"Caso 63" (All Languages)
"Crime Junkie"
Most-Shared Lyrics Globally
"Heat Waves" by Glass Animals
"Heather" by Conan Gray
"I Love You So" by The Walters
"Summertime Sadness" by Lana Del Rey
"Somewhere Only We Know" by Keane
Most-Streamed Artists in the US
Drake
Taylor Swift
Bad Bunny
The Weeknd
Most-Streamed Songs in the US
"As It Was" by Harry Styles
"Heat Waves" by Glass Animals
"Bad Habit" by Steve Lacy
"Me Porto Bonito" by Bad Bunny feat. Chencho Corleone
"First Class" by Jack Harlow
Most-Streamed Albums in the US
"Un Verano Sin Ti," Bad Bunny
"Harry's House," Harry Styles
"Dangerous: The Double Album," Morgan Wallen
"Midnights," Taylor Swift
"Sour," Olivia Rodrigo
Most Popular Podcasts in the US
"The Joe Rogan Experience"
"Call Her Daddy"
"Crime Junkie "
"The Daily"
"Armchair Expert With Dax Shepard"
Most Popular Audiobooks in the US
"I'm Glad My Mom Died," Jennette McCurdy
"Harry Potter and the Sorcerer's Stone," J.K. Rowling
"It Ends With Us," Colleen Hoover
"Atomic Habits," James Clear
"The Subtle Art of Not Giving a F*ck," Mark Manson