He's Been Called The Next DJ Khaled, "Your Girlfriend's Favorite DJ", And An Innovator In His Lane. We Got A Chance To Talk One On One With DJ CEO About His Career, New Projects Coming Out, And More! Here's How That Conversation Went.
HR: How did you get started in the music industry, and what drew you to hip hop specifically?
DJ CEO: It's hard to pinpoint when I really got my "start" because I feel like subconsciously I've always been on this path, from burning cds and "custom mixtapes" and selling them for $5 at school to going viral on MySpace and getting involved in The Hyphy Movement. My Godfather was also very connected to Charlie Daniels and there was other people in my life growing up that had their hands in the industry in one way or another so it's kinda always been in the cards for me in a way. What first drew me to hip hop was I remember when I was maybe 5 or 6 years old I had got this red Power Rangers fm radio for my birthday, one day I was messing around with it just going through the stations trying to find something that would come in clear and the local hip hop station 97.7 KWIN came on and I can't even remember what the song was they were playing but I was instantly hooked.
HR: We've heard you've been compared to DJ Khaled. How does that make you feel, and what similarities do you see between your style and his?
DJ CEO: I mean it's kinda cool to be compared him because he's one of the greats. I wouldn't say he's been a super huge influence on my career personally though just because it was really the DJs before him like DJ Skribble, Funkmaster Flex, and DJ Drama, those are the ones who really got me into "DJ culture" but Khaled still has played a role in my influence a little for sure, especially with the way he puts songs together and orchestrates them, that's a big part of why I do that same thing. I'd say that's our biggest similarity in style is the way we orchestrate tracks.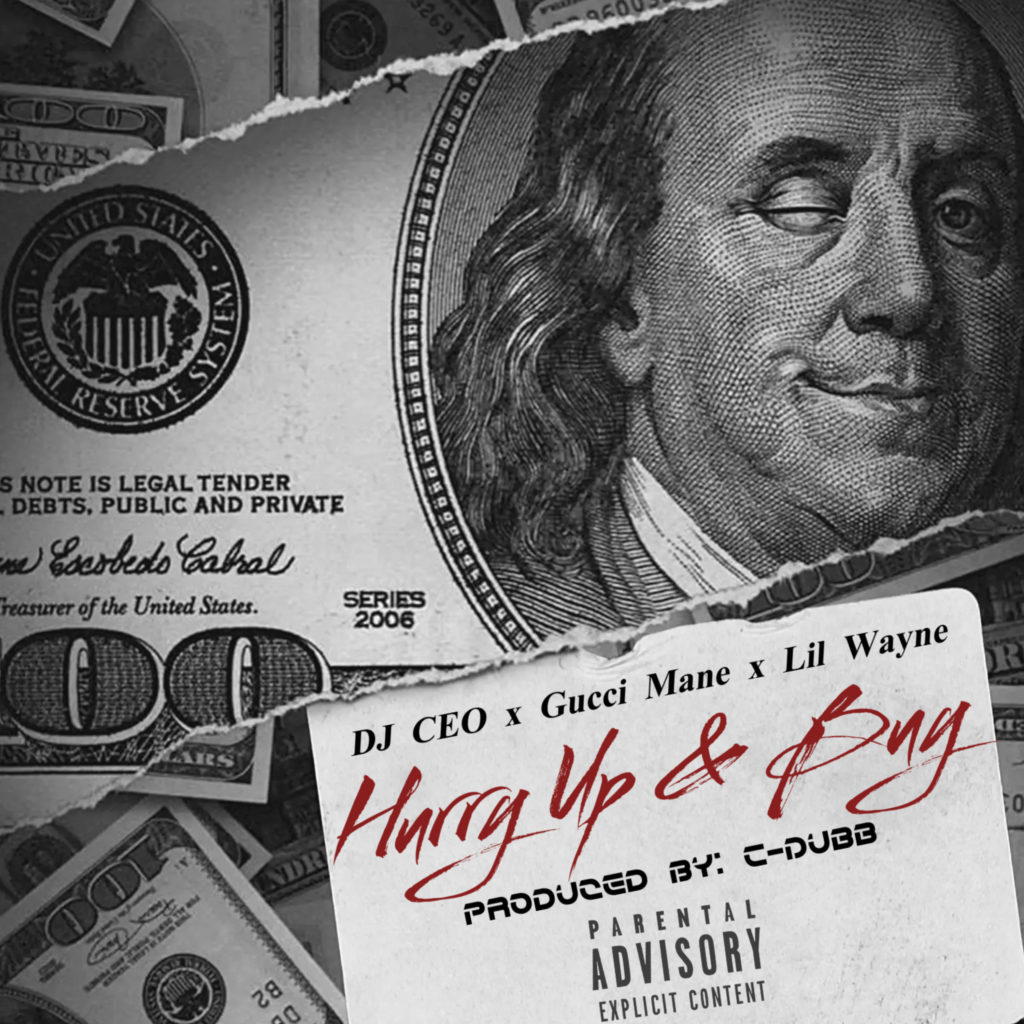 HR: Can you tell us more about your upcoming single with Lil Wayne and Gucci Mane? What does it feel like to get to do a song with them?
DJ CEO: This single has been in the works since last year. It's finally ready for release and coming to all major streaming platforms April 14th. Honestly it's still very surreal to me at times. I've been very blessed to be able to get access to the artists and features I've been given access to, I'm really excited to see the aftermath of this single dropping and I have a lot of other big projects in the works as we speak as well.
HR: As a DJ in the hip hop scene, how do you stay current and adapt to changes in the industry?
DJ CEO: Its not always easy especially because the music industry in general in all genres is constantly changing a little every day. I guess I'd say it's just about having an ear and passion for music and staying true to one self and one's own individual sound if that makes sense.
HR: How do you balance staying true to your sound while also pushing boundaries and innovating in your music?
DJ CEO: I mean I've always taken an interest in researching the industry trends but that's just a small part of it for me. That's what's having an ear for music really comes into play and also the willingness to step out of your comfort zone. I think what has helped me the most is doing some of the different DJ gigs I've done playing for different types of crowds because it's put me in positions where I had to learn to mix with other genres instead of just mixing with hip hop. Being pushed out of my usual comfort zone like that opened my eyes and ears to a lot of things.
HR: What do you think sets you apart from other up and coming DJs in the hip hop scene?
DJ CEO: I'd like to think my personality plays a part in it in a way but I think a major part of standing out from the others is that I'm pushing to open a lane specifically for strip club DJs. Like how celebrity strippers became a thing a few years back, I'm trying to be one of the first celebrity strip club DJs. Also I think the way I put together my tracks plays a part in it as well.
HR: Can you talk a bit about your creative process when producing music, and how you come up with new ideas?
DJ CEO: The first thing I do is buy up features, I'll stockpile different types of features (hooks, verses, intros, etc) from various different artists then go through them based on the flow, bpm, and lyrics and see what features would go well together, sometimes with a couple tweaks. Then I start getting a beat together for it and put it together from there, sometimes I'll get pointers and advice from my mentors in the game while I'm working on a project as well just to have a couple different points of view involved.
HR: What has been your biggest challenge so far in your music career, and how have you overcome it?
DJ CEO: I'd say one of the biggest challenges I've had personally is learning to have more patience with the entire process and not overload myself with work. One of my biggest set backs has always been that I try to take on a lot of stuff all at once more often than not and then end up burning myself out and I always get anxious when I do a song to release it right away so now I've been working on my time management and limiting myself to a certain amount of things per month and remembering that even after a song is complete there's still a lot more work to do on the back end before I can release it. My manager has been a big help with that for me. Being blessed with a good team behind me has really been the biggest thing that's helped me overcome a lot of challenges in my career.
HR: What message or feeling do you hope people take away from your music?
DJ CEO: Every song is different so it's hard to pinpoint a message from the music but from me in general I hope the message people take away especially those who have been watching me do my thing for a while and have seen the changes and growth is to never stop chasing your goals. The only difference between a dream and a goal is the effort you put into it. It doesn't matter where you come from or how much money you grow up having. If you have a goal and the drive and ambition to get to it that's all you need.
HR: Finally, what are your plans for the future, and where do you see yourself in the coming years?
DJ CEO: I'm working on a few things currently. This Lil Wayne and Gucci track is actually the first single for a compilation album I'm working on called Street Gods Vol. 1 that also has features and appearances from Young Buck, Sticky Fingaz, Jadakiss, and more. I'm also working on an EP album with Snoop Dogg called The Doggilation EP. One of the first singles on that project is actually a remastered version of a song with Snoop Dogg and Domino called Same Blocc Same Gang I had released a few years back, it's also got features from E-40 and Lil Nate Dogg. After that I've got a strip club themed album called Late Nightz coming this fall then for the last part of the year I'm currently in talks to do a joint album with the DJ that was my inspiration to become a DJ myself; DJ Skribble so I'm really excited for that. Aside from the albums I'll also be bringing back my podcast The DJ CEO Show completely uncensored and back to its original format that I was doing before I went to FM radio for a bit. I'm also still traveling and doing events with my team of dancers; CEO's Angels. When I'm not doing that I'm at my resident DJ club Peppermint Hippo. In the coming years I'm planning on seeing how far I can take things honestly, I never thought I'd make it this far so now I feel like the sky's the limit.
HR: That is certainly great to hear! We're glad we got the chance to talk to you and get some insight on everything you have going on. We're looking forward to all the new projects. Thank you so much for taking the time to do this interview with us! We hope to be back in touch with you very soon. Is there any final words you want to leave your fans with?
DJ CEO: Definitely, thank you for having me. I'm honored to have had the opportunity to interview with you guys. I'll come back anytime you guys want. To everyone who has supported me, thank you. Whether you've been here since the start or jushttp://www.instagram.com/DJ_CEO.officialt recently started checking me out, the support and love I've gotten has been amazing and I wouldn't have been able to come this far without that. Also big shout out to my manager ; Bryan Thompson aka Bones with Fyrebox Management and shout out to the GC Fam (you know who you are). Let's Get It!