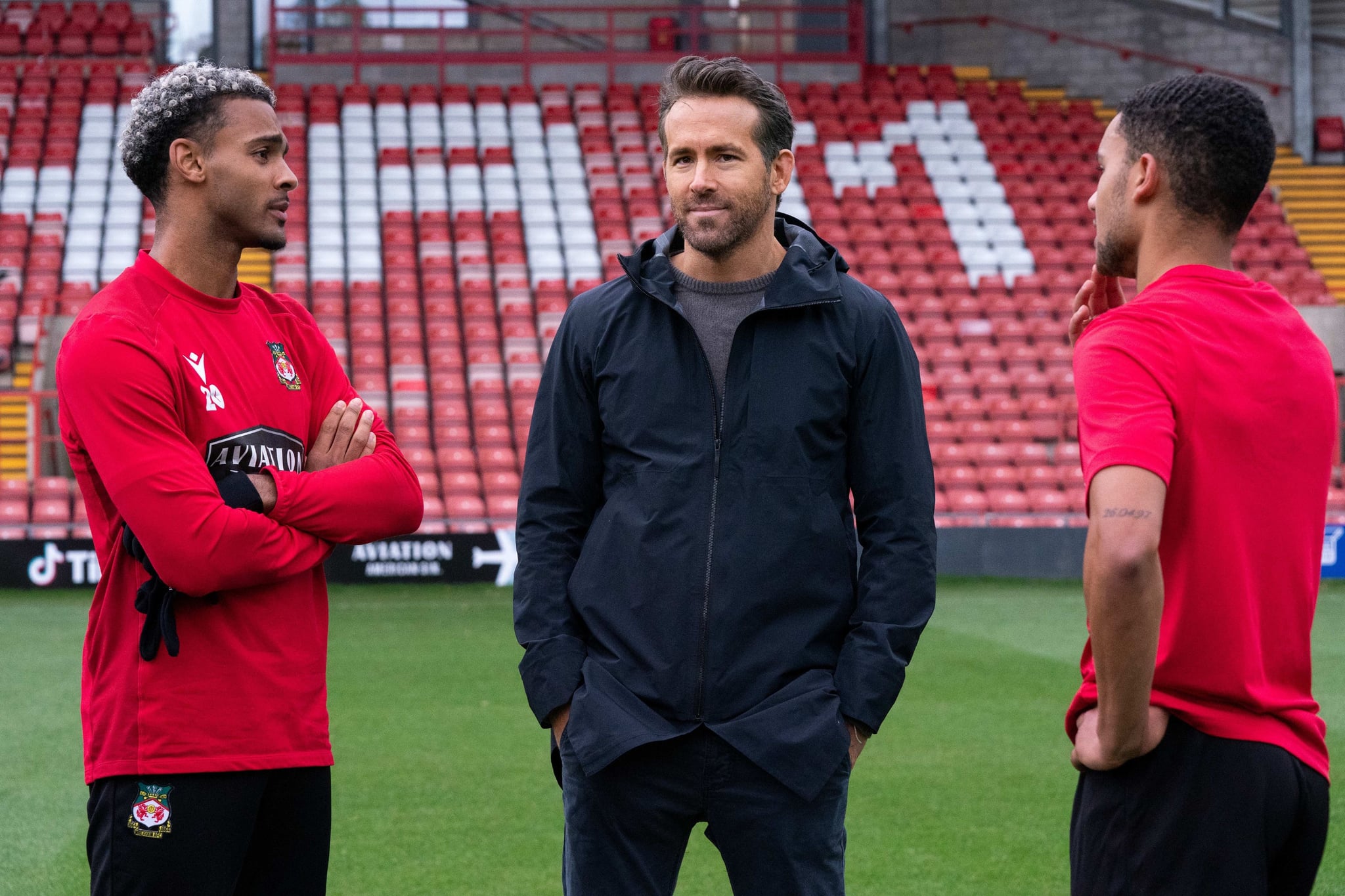 It was my new-ish British boyfriend's idea to watch FX's "Welcome to Wrexham", a docuseries about the world's third-oldest professional soccer club, located in Wrexham, a town in Wales. It would have been a stretch to say I was excited. Although I cheered competitively in high school, these days, I consider myself less of a sports person than a hot-dog-eating, here-for-the-festive-vibe person. But he'd sat through my choice ("Love Island"), so it was his turn to pick.
Honestly, I was anticipating doing what I did whenever sports were on — that is, half-listening and occasionally looking up from my phone to make a semirelated comment that would let me collect some cool-girlfriend points. But something unexpected happened: I couldn't look away.
Wrexham A.F.C. was purchased by actors Ryan Reynolds (of "Free Guy") and Rob McElhenney (of "It's Always Sunny in Philadelphia") in 2021, and the docuseries follows their attempts to revive the struggling team. But it wasn't the soccer (football) storyline that hooked me, really. Instead, I was drawn in by the Wrexham A.F.C. fans' Welsh accents and the Welsh language, which were brand new to me. In fact, Welsh was an unexpected central point of the docuseries, with locals using the renewed, "Deadpool"-driven attention on their local club to generate fresh interest in the Welsh culture and language. Each episode highlighted a Welsh slang word or alternative to an American or English phrase: "cae" instead of "field" or "pitch"; "dyn" instead of "guy" or "bloke."
I applauded how tightly the Welsh people held on to their language, despite being overshadowed by English in mainstream everything. And I related to the struggle, deeply. I grew up Cajun in Lafayette, LA, with a thick accent, accustomed to using different words than our neighbors to the left (Texas) and right (Mississippi) — like "coulée" instead of "gully" or "ravine." Over time, I learned to turn on and off my accent and dialect depending on where I am and who I'm speaking to.
Whether their team wins or loses, they're staying to cheer them on because it's about more than a team winning. It's about a culture surviving.
My great-grandparents and some grandparents spoke our native language of Cajun-French (now often called Louisiana French), a mixture of French, Spanish, and Native American words. But they didn't teach it to my cousins or me because it wasn't "proper." And frankly, we didn't want to learn it, because it wasn't "cool." Now it's on the decline, and some worry it's on the verge of being lost forever.
The connection between sports and culture is strong, as "Welcome to Wrexham" illustrates. My earliest memories of the Cajun language involve sports, specifically American football. The Cajun-French words my cousins and I learned first were cuss words that our papaws would toss out at the Saints' quarterback in the '90s. They'd yell, "Filles putains, Saints": sons of b*tches. That was back when the Saints were the "Ain'ts", predicted to win the Superbowl when hell freezes over, and fans were shamed for wasting their time and money on a dying team. My nonc (uncle) even remembers people warning him to wear a paper bag over his head in case ESPN caught him on camera in the crowd.
Hearing some of the Wrexham A.F.C. chants brought back some of the ones I learned as a kid to cheer on the University of Louisiana Ragin' Cajuns: "Allons, rouge! Allons, blanc! Let's geaux, Cajuns! Allons!" I still hear the words in my great-grandparents' voices, even though they're gone now.
As I continued to watch "Welcome to Wrexham", I was struck time and time again by the similarities between the town and my hometown. Wrexham is a mining town; Lafayette is an oil field. Both experienced crashes that devastated the community, forcing families that had lived there for generations to uproot and assimilate into new neighborhoods and cultures. My own parents almost left before I was born in 1986. A popular bumper sticker at the time read: "Last one to leave, turn out the lights." To many, it felt like the local culture was dying during the exodus. In some ways, it was.
It's no wonder that sports teams representing hard-working, marginalized groups can become something of an identity in areas like Wrexham and Lafayette. In the docuseries, McElhenney said his Philly upbringing — which instilled in him a die-hard sense of pride in sports and community that couldn't be contained by city limits — drew him to Wrexham in the first place. I felt that.
As a girl from the American South with zero experience on a soccer field, Welsh culture should feel foreign to me, but it doesn't. It feels familiar in more ways than just cheering for your home team and wearing matching jerseys. "Welcome to Wrexham" introduces Welsh cooking and music, and highlights, again and again, the fact that Wales exists independently, culturally, from the countries that surround it. Whether their team wins or loses, they're staying to cheer them on because it's about more than a team winning. It's about a culture surviving.
The show sparked a conversation between my boyfriend and me about my Cajun identity, the first deep one we'd ever had. For a long time, being Cajun felt intensely private to me, something outsiders wouldn't understand — something I told myself I didn't want to share because it was too special. But that wasn't the whole truth. I was also scared that someone would make fun of it because they didn't understand it, and I wouldn't know how to explain it. And more than that, I felt guilty, as though I'd turned my back on my Cajun-ness because I can't re-create my mawmaw's gumbo recipes and only have a beginner-level feel for the Cajun language. So I kept quiet. Until "Welcome to Wrexham" — telling the story of another under-appreciated culture surviving via stadiums, like mine — got me talking again.
As I voiced my feelings around being Cajun out loud for the first time, I pictured the night I'd first met my boyfriend, at a so-called "pub" in New York City. I'd always imagined that he saw me as a Manhattanite, wearing all black and twirling the ice in an Aperol spritz. Now, I imagined that image shifting to also accommodate the girl I once was. The one who used to catch bayou frogs with her bare hands, eat boudin sausage on a truckbed on Friday nights before kickoff, and two-step to Wayne Toups until the wee hours, win or lose. But really, my own self-image and understanding was expanding, stretching to accommodate all of me again.
My boyfriend listened, smiled — then told me about the first DVD he ever got, a gift from his dad after a business trip to New Orleans. It was "The Waterboy", a classic film about an underdog football team in Cajun country with accents others couldn't understand, food others didn't know you could eat, and music that kinda sounded weird but also good. I nearly cried. "The Waterboy" is both one of my favorite movies, and also one I'm embarrassed to be associated with. It represented one of the first times I've ever seen my people depicted on the big screen, and has always felt like a curse and a blessing. When I left Louisiana, people I met out of state often referenced the movie, either as a way of pinpointing where I was from — or to tell me I sounded like Bobby Boucher, the movie's uneducated main character. But my boyfriend surprised me by saying that what he loved about the movie was the heart, the collective strength of the underdogs — and, of course, the humor. That's what I loved, too.
I never expected watching a docuseries about a Welsh soccer team would make me reckon with my own Cajun identity, but it did. It reminded me how important it is to present to the world all of who you are, not just parts that you think might make you fit in. Cultures evolve, and so do you — but the roots remain unchanged. And those roots are not only meaningful but also enough, just as they are.
Image Source: FX / Courtesy Everett Collection