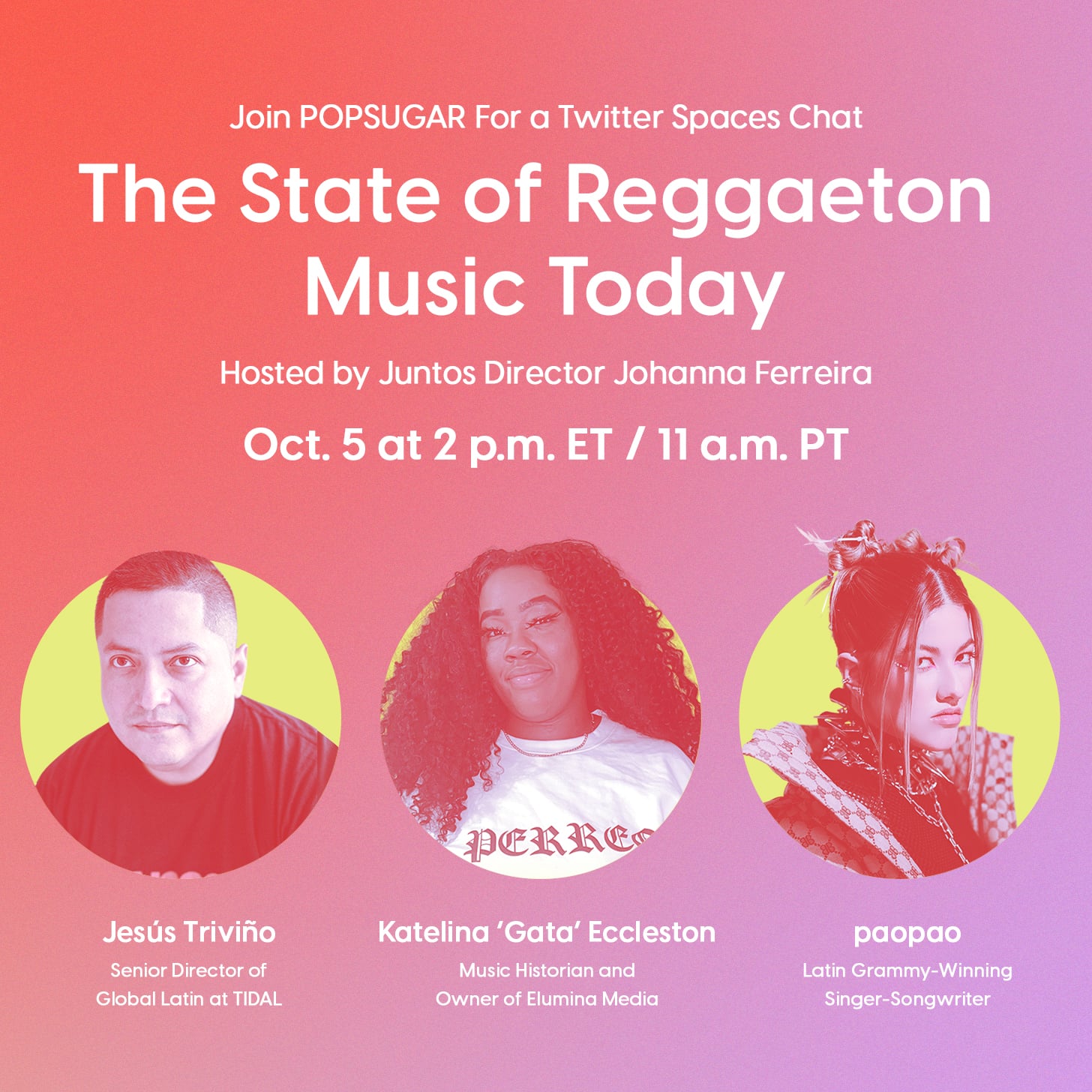 This Latinx Heritage Month, POPSUGAR is celebrating the history and rise of reggaeton with Ritmo. Reggaeton has brought Latinx culture to the forefront globally and has left an indelible mark on music history — but the originators (especially Afro-Latinx and women creators) have not always been recognized for their impact. On Wednesday, Oct. 5, POPSUGAR Juntos content director Johanna Ferreira is in conversation with music historian and artist Katelina Eccleston, Latin Grammy-winning reggaetonera paopao, and TIDAL's senior director of global Latin culture and content, Jesús Triviño, to talk about the state of reggaeton music today on Twitter Spaces.
Katelina "La Gata" Eccleston is a notable music historian, proud Black Latina, and reggaeton artist who rose to prominence with her platform Reggaeton Con La Gata in 2017. Since then, she's been featured in HuffPost, Harper's Bazaar, and NPR, guest lectured at Harvard University, is producing a Spotify podcast, and is leading research for a new MTV show — and did we mention the new music?
paopao is one of reggaeton's biggest rising stars. A personal favorite of Bad Bunny and a Latin Grammy-winning singer-songwriter in her own right, paopao began her career working in the music-business industry before making the transition to artist.
TIDAL's Jesús Triviño has been working in the music industry for nearly two decades and is a leading expert in all things Latinx pop culture. Triviño has been nominated for a Webby Award and contributed to outlets such as BET, Vibe, People, and more.
Join us on Oct. 5 to hear Ferreira, Eccleston, paopao, and Triviño discuss reggaeton's global expansion, how the genre brings Latinx communities together, and returning to its roots by giving Black Latinx creatives their proper credit and praise. Follow POPSUGAR Juntos on Twitter, and set a reminder for the Space here.
Image Source: Photo Illustration: Michelle Alfonso