Image Source: Getty
"The Banshees of Inisherin" star Barry Keoghan is in love — with his baby son, Brando. Keoghan and his partner, Alyson Sandro, welcomed their first child in August, and while Keoghan talks to POPSUGAR about his new film, he also can't help but gush about his little guy. "I just want to go upstairs and hug him now," he says.
His affection for his son is all over his Instagram account, which is full of pictures of his newborn. The night before our interview, he took a photo of baby Brando at a movie theater where "Brando" was written on the wall in reference, of course, to the actor Marlon Brando. "It was cute," he says with a smile. But does that mean he hopes baby Brando will be an actor, too?
"No, he will not," Keoghan says emphatically. Well, at least he won't force him to be one. "If he did want to become an actor, you know, I'm there for it," he adds. Keoghan doesn't want to come across like he's trying to be some sort of parenting expert, since he is a brand-new dad, but he does have some ideas about how he wants to raise his son. "You don't want to brainwash them into doing something that they don't want to do," he says. "I think it's exciting to see where he ventures."
For now, he's happy to be Brando's chief photographer. "That's the good side of iPhones and stuff . . . that we have these days," he says. "We can record everything we can and have it for him when he gets a bit older."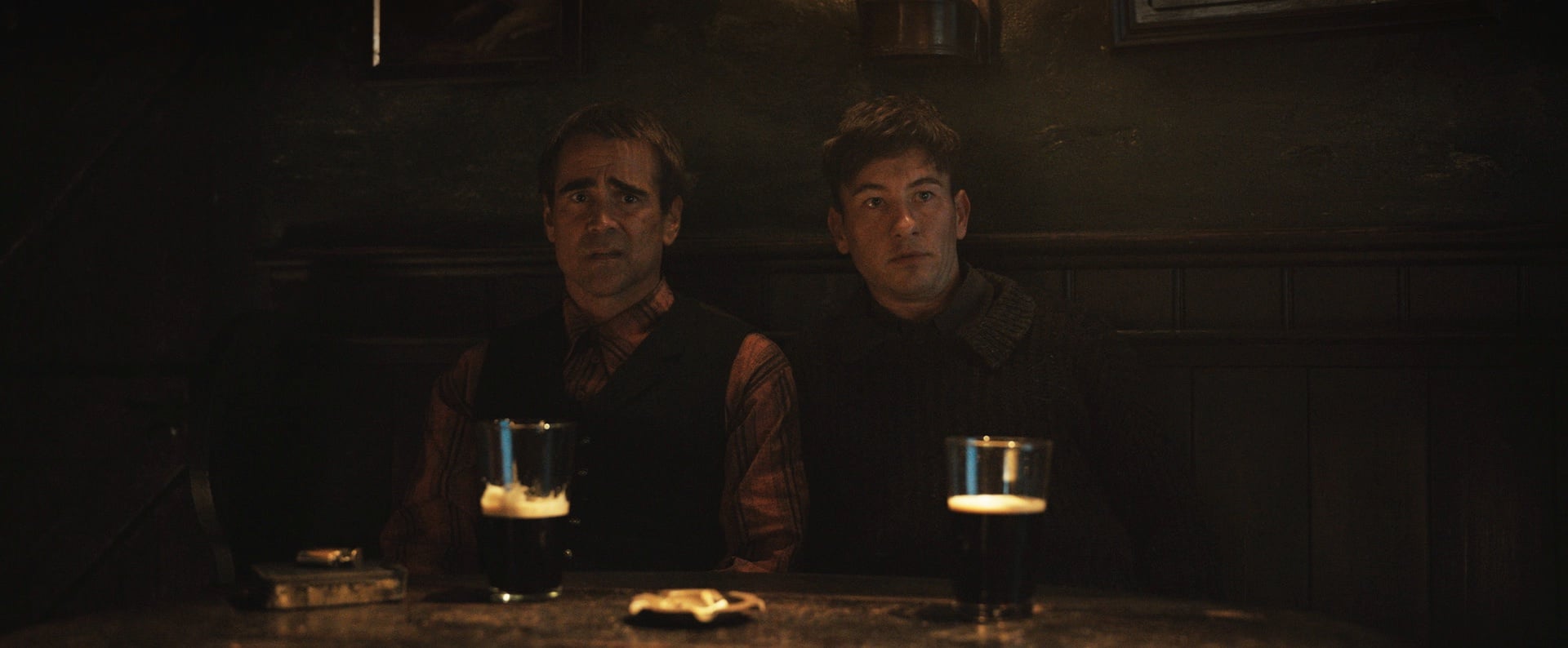 Image Source: Searchlight Pictures+
Keoghan has been thrilled to share the excitement over "The Banshees of Inisherin" with his son. The black comedy is about a man named Pádraic (Colin Farrell) living in a small Irish town who finds out the person he considers his best friend, Colm (Brendan Gleeson), doesn't want to be friends anymore. His sister Siobhán (Kerry Condon) tries to comfort him and help him move on. Pádraic's remaining friend is Dominic (Keoghan), who has a penchant for saying the first thing that pops into his mind, even if it's the absolute worst thing to say.
"You get perspective, when you're older," Keoghan says. "You don't want that thing of not having a filter, or you learn from hurting people's feelings." Dominic doesn't have that filter.
"It was that kind of thing I wanted to play around with, that honesty and that truthful kind of view that Dominic has," he explains. "He doesn't mean to hurt anyone's feelings or tell them what it is. He's just saying it as he sees it." Pádraic and Dominic aren't like most of the men around them. "They're expressive and they show their feelings," Keoghan says, and the hyper-masculine society they live in doesn't like that.
Keoghan says that men everywhere are pressured to not express themselves and show love, and that he experienced it a lot growing up in Ireland. He adds that this was especially true of the time period the movie is set in: the 1920s. Expressing themselves makes Dominic and Pádraic "unordinary." "Pádraic and Dominic had that in common, that they could go together and be themselves together," he explains. "Pádraic doesn't actually have that openness with Colm, who he considers his best friend."
For Keoghan, it was a dream come true to work with director Martin McDonagh and the movie's cast. He got cast when McDonagh emailed him directly to meet and discuss the character. "I'd already said yes to it in my head," Keoghan jokes, but he played it cool when they met.
"You're with the greats," he says of the ensemble. "You feel like the new student at school." There was one scene where Farrell, Gleeson, and Condon are all talking, and Keoghan is just in the background watching them, and that's when it hit the actor that he was really part of this movie, with these actors. "It's a special film," he says.
Keoghan has also been branching out more into genre films. Earlier this year, both he and Farrell appeared in "The Batman" — Farrell as the Penguin and Keoghan teasing a future role as the Joker. He also appeared in the 2021 ensemble Marvel movie "Eternals" as the moody Druig. His character's relationship with Lauren Ridloff's Makkari became a fan favorite part of the film.
"I would love to explore Druig again," Keoghan says. He calls his costar Ridloff "amazing." "I'd love to see where I could take Druig because I feel we were only touching on a little bit. . . . And, again, obviously to have [director Chloe Zhao] do it would be amazing."
Keoghan also made a splash when he told British GQ earlier this month that he would love to appear in the Star Wars movie director Taika Waititi is working on. "I love Star Wars," he tells POPSUGAR. "I love Taika as well. . . . I'm very curious to see what he has for Star Wars."
His favorite character is Hayden Christensen's Anakin Skywalker, so if he ended up in the Star Wars universe, he'd want to play a "fresh" character, but someone with a similar conflict to them. "A hero turned bad turned good turned bad," he suggests. He also adds that Christian Bale said recently that he wants to join Star Wars too. If they both join Waititi's movie, "My dreams are coming true," Keoghan says.
"The Banshees of Inisherin" is screening now in select theaters.