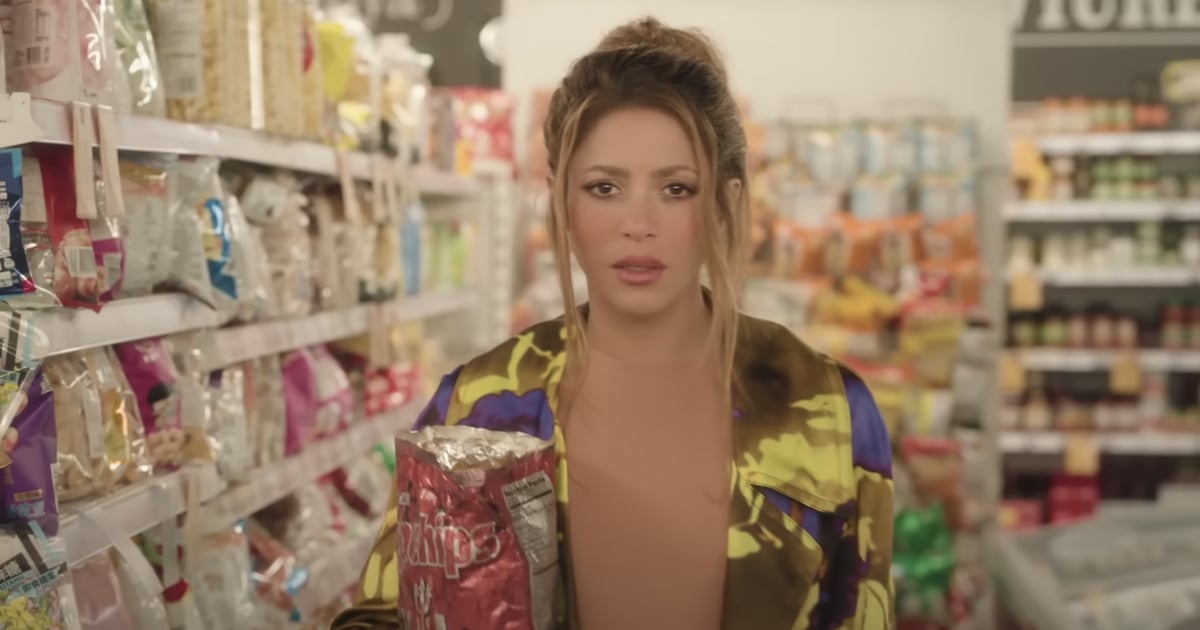 Is Shakira throwing shade at ex Gerard Piqué in her new video? On Oct. 19, the Colombian singer released an emotional visual for her "Monotonía" track, in which she opens up about the demise of a relationship that fans believe is a reference to their split. According to Billboard, some of the Spanish lyrics in the song translate to, "It wasn't your fault, it wasn't my fault / It was monotony's fault / I never said anything but it hurt / I knew this would happen."
While "Monotonía"'s lyrics aren't a dead giveaway that Shakira is referencing Piqué, a man who appears in the song's video might be a stronger hint. Around the 47-second mark of the visual, Shakira and a mystery man wearing a white hoodie and gray joggers have an encounter in a grocery store, where the latter dramatically blasts the singer's heart through her chest, which leaves her crawling to find it.
Fans on social media took notice of the man's outfit and pointed out that it's similar to something Piqué wore in Shakira's 2017 "Me Enamoré" video, in which the former couple was seen enjoying the honeymoon stage of their relationship. It could be all speculation, but Shakira aimlessly walking around with her blown-out heart in her hand for the rest of the "Monotonía" video seems like a pretty personal message.
Shakira and Piqué announced their split after 11 years together in June via a joint statement to People, saying, "We regret to confirm that we are separating. We ask for privacy at this moment for the well-being of our children, who are our maximum priority. Thank you in advance for your understanding and respect."
Piqué and Shakira share two sons, Milan, 9, and Sasha, 7. Following the pair's breakup, the singer shared with Elle how hard it's been to move forward after one of the most difficult years of her life. "This is really hard to talk about personally, especially as this is the first time I've ever addressed this situation in an interview," she told the outlet in September. "I've remained quiet and just tried to process it all. It's hard to talk about it, especially because I'm still going through it, and because I'm in the public eye and because our separation is not like a regular separation. And so it's been tough not only for me, but also for my kids. Incredibly difficult. I have paparazzi camping outside, in front of my house, 24/7."
Check out the end of the "Me Enamoré" video ahead and see if you can spot Shakira's reference to Piqué in the "Monotonía" visual above.
[embedded content]