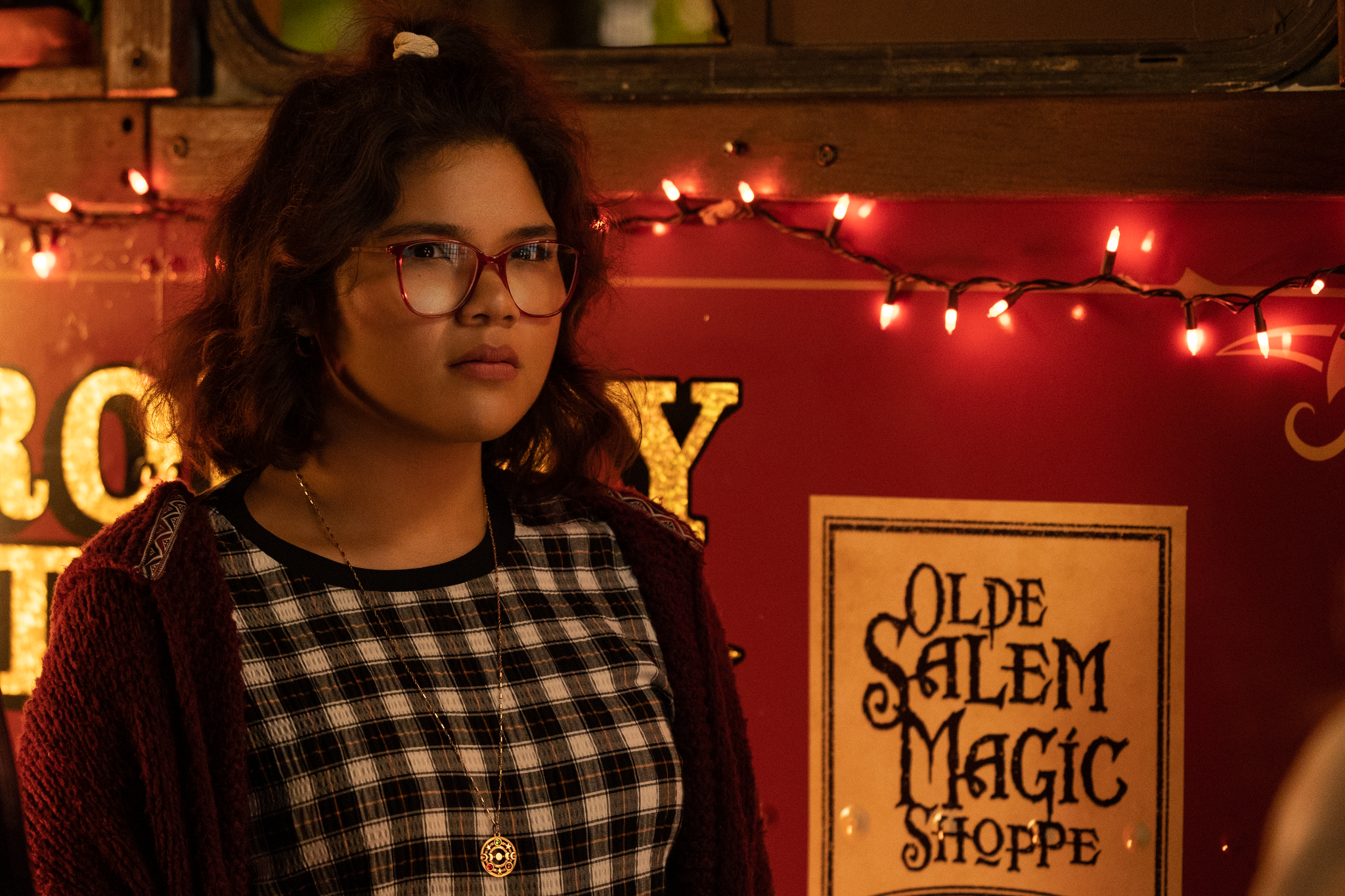 "Hocus Pocus" has become synonymous with Halloween for many. The 1993 film starring Bette Midler, Sarah Jessica Parker, and Kathy Najimy as the Sanderson sisters is a mainstay, marking spooky season in households across the nation — including Belissa Escobedo's. "I watched it every year growing up. It's mine and my mom's favorite movie," she tells POPSUGAR. The Mexican American actress plays Izzy, one of the main characters in "Hocus Pocus 2." "Her optimism and her need to make a joke in every situation" are some of the traits Escobedo shares with her onscreen character, along with her "true loyalty."
"I don't know that there's anything that can really get you ready for a project with such legendary people," Escobedo says, though certainly being such a fan of the original film and her experience acting in major productions like "The Baker and the Beauty" and "American Horror Story" helped. Her favorite part of filming was seeing the witches in costume for the first time. "It felt awesome, seeing such iconic actors and characters that I had seen since growing up," she says.
The costumes are nearly identical to the 1993 versions. The sequel follows the previous film's structure and beats, too, opening with the Sanderson sisters in colonial Salem before fast-forwarding to the modern day. The Sanderson sisters are again brought back to life, and a group of plucky teens must foil their evil plots. But not everything is the same. For one, "Hocus Pocus 2″ acknowledges the diversity of the real Salem, MA, which, according to the US Census, is 18.3 percent Hispanic and 6.7 percent Black. The main protagonists are Black and Latina, as played by Whitney Peak and Escobedo, and their friend is played by Lilia Buckingham. "I feel very grateful to be able to represent the Latino community in this franchise," Escobedo shares. "It's definitely an honor."
Escobedo understands the power of representation. "Seeing yourself represented on the screen can really alter the course of your artistry. I know when I first saw America [Ferrera] on screen in 'Real Women Have Curves,' it proved to me that I could be on screen myself and motivated me to keep pursuing acting," she says. And here she is, acting in one of the most beloved franchises. In her role as Izzy, Escobedo delivers us a positive portrayal of Latina girlhood and one that even hints at a different understanding of brujería and Latinx spiritual practices.
At the end of "Hocus Pocus 2," there's a shot of Escobedo and her two friends' feet, reminiscent of the ones of the Sanderson sisters. Combined with the action in the film's previous 100 minutes, that shot foreshadows the three girls' future as witches. Without the stigmatization and isolation of centuries past, perhaps they can be good witches at that.
Regarding brujería itself, Escobedo shares, "I don't have, like, a long relationship with it. . . . Either your family really practices it, or they absolutely don't touch it at all. My family definitely didn't come from practicing it, so I didn't grow up with it." Still, that doesn't mean she's had no exposure to it, adding, "But my childhood friends are definitely practicing, and I grew up with that."
Still, real brujas have reasons to be skeptical. Zayda Rivera, spiritual mentor, writer, and founder of Mindful Living with Z, has concerns. "Many films, like 'Hocus Pocus,' portray witchcraft and brujería as dark and evil and something to fear. It's a very one-sided, narrow view. It isn't completely wrong. There is definitely a dark side, but there's also a beautiful side of healing, manifestation, and transmutation that is often overshadowed in films," Rivera tells POPSUGAR. "The movie industry is giving pop culture what it wants — a film that glorifies witchcraft and brujería in a comical way, playing on the darkness and evil narrative that has existed for centuries."
And indeed the Sanderson sisters are evil — their goal is to eat children and live (forever) off their stolen life forces. And they stay evil in "Hocus Pocus 2," although they get a softer reading in the sequel. It provides some background into their motivations and a heartwarming end to their saga. Plus, their evilness is never really scary or threatening. We're talking about villains with musical numbers here. The joy of both Hocus Pocus films is in the over-the-top acting of Midler, Parker, and Najimy. Whenever they're on screen, each of them is giving a scene-stealing performance. That's why the films can be watched so many times; it's easy to miss something hilarious with three faces to watch at the same time. And it's still rare for women to be beloved and celebrated for so roundly rejecting the maternal instinct.
But the movie industry still has a long way to go in advancing how it portrays women and brujas in particular. "I wouldn't say there has been a concerted effort to destigmatize brujería," Rivera explains, "It has become pop culture due to social media and so many people claiming to be witches, warlocks, brujas, brujos, and brujxs. The authenticity is being lost because of the saturation."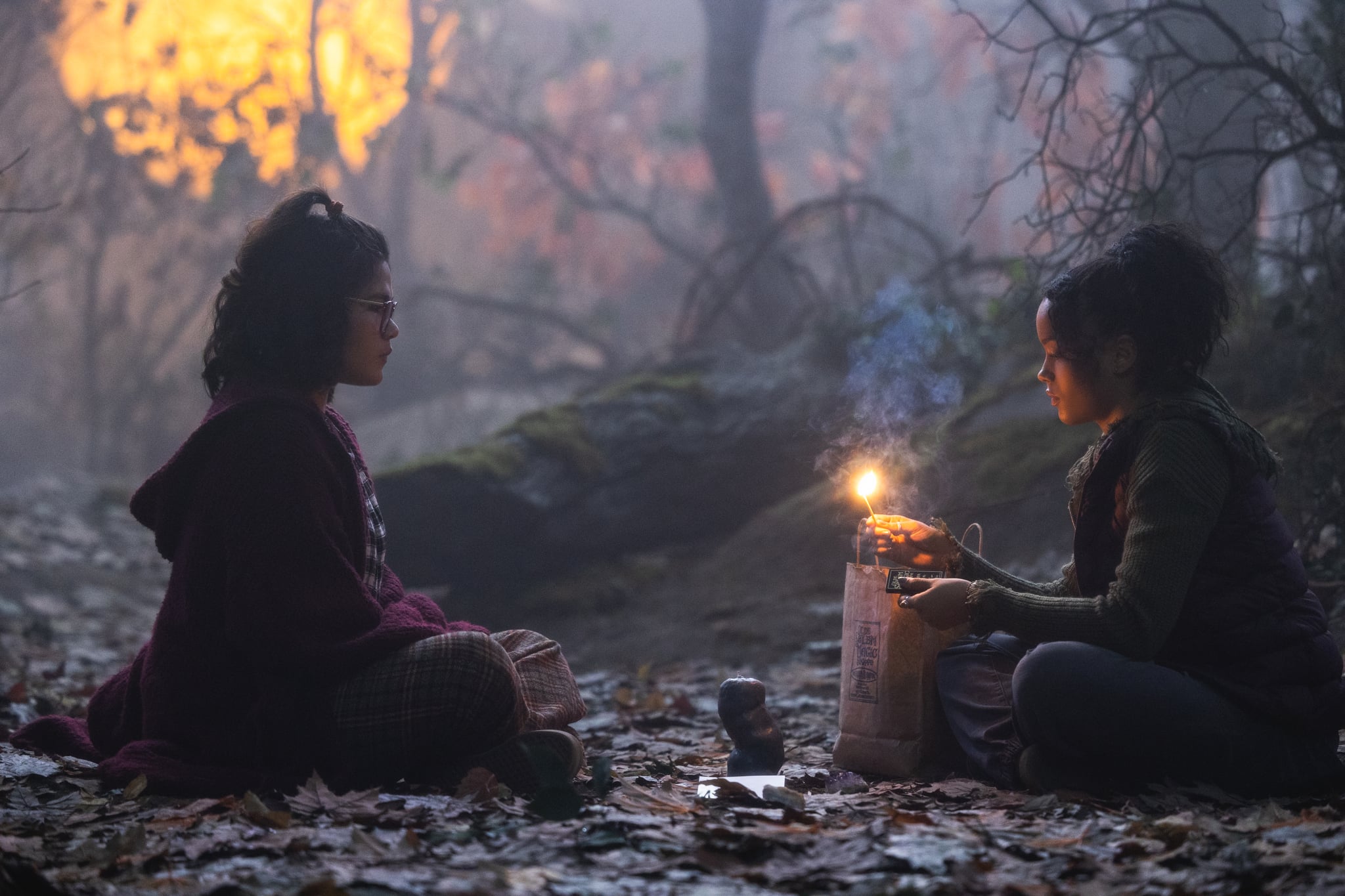 She reminds us, "People who are interested in Latinx spirituality need to go beyond following spiritualists on social media or watching films and TV shows that glorify it inaccurately." Her advice? "Do your own research. Read. Study under credible teachers. Practice daily for self-care, self-love, healing, and protection. And understand that magic is linked to your intentions. So use care and respect when doing this work, because it's not all lights, camera, action."
Indeed, it's probably not wise to be getting spiritual teaching from Disney movies, but these films do have a big impact on the culture and how people understand things outside of their lived experiences — including witchcraft. "The film is fun and entertaining, but it feeds into the stereotypes of what being a bruja means," Rivera adds.
"Hocus Pocus 2" hints at changing that dynamic. We see Sam Richardson's character, Gilbert, arguing that the Sanderson sisters were misunderstood, that they had to act that way to survive, and that given the right chance, they could be good. He's proven wrong but perhaps not all the way. The magic that resurrects the Sanderson sisters can't undo their trauma. It's not enough that they are teleported into a more just society; they need to have grown up in one. Or so the theory goes. We don't really know if Izzy and her friends will be different. Will they even form a coven? Can the magic that the Sanderson sisters learned from the book be used for good? What would that even look like? It's unclear.
"We need films that have diverse leads and authentic stories about brujería. Maybe 'Hocus Pocus 3' will star a bruja," Rivera says. And if it does, Escobedo is certainly ready.