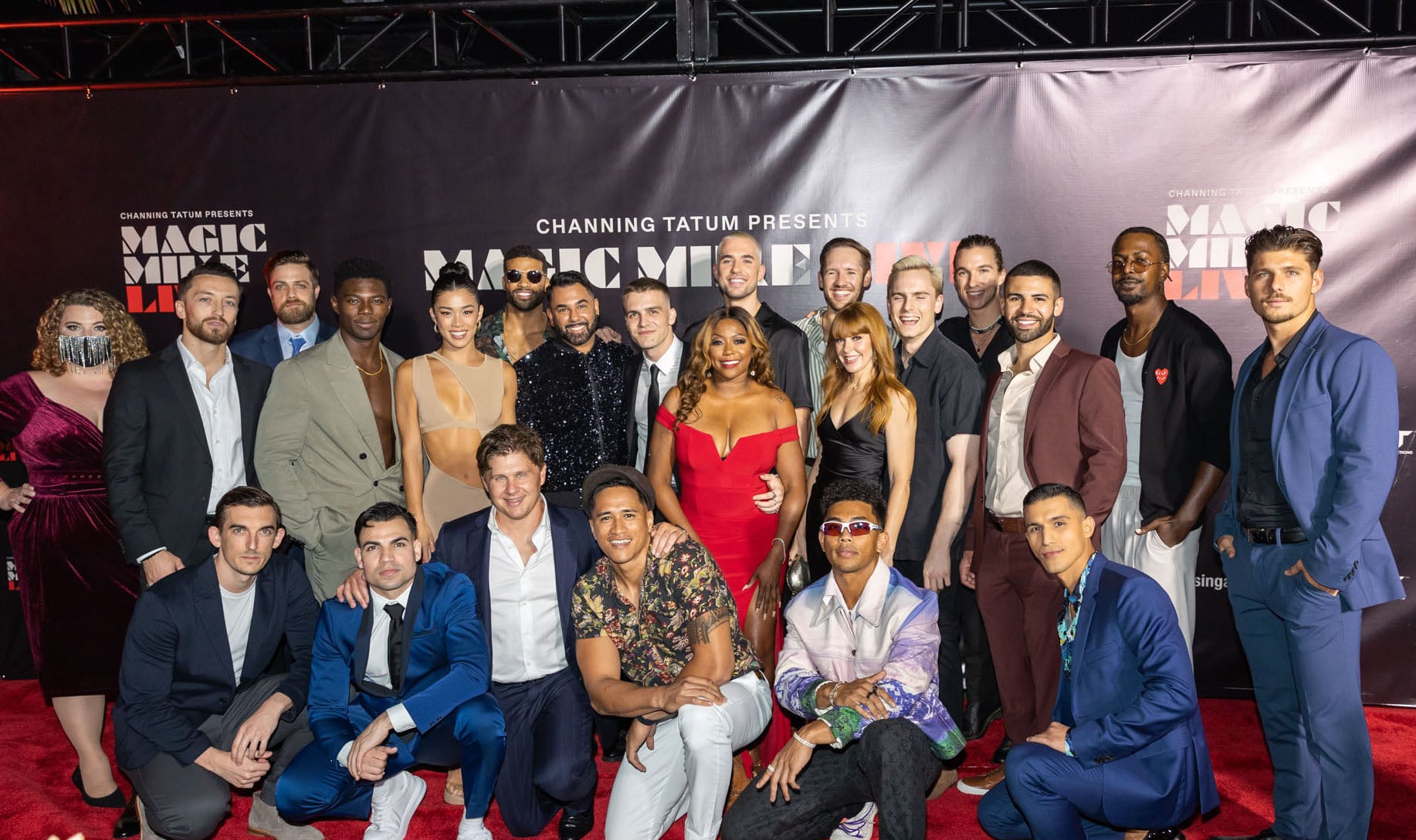 Photo Credit: Magic Mike Live Miami
Lovers of the male form are gearing up for the final installment of Channing Tatum's sexy juggernaut franchise "Magic Mike." But before the film hits theaters next Valentine's Day, there's a delicious show waiting for you in sunny, sizzling Miami. Magic Mike Live hit Miami this month and has the making of the best night out with your girlfriends, including a sexy bar for preshow cocktails and even an accompanying restaurant — aptly titled Wildfire by Meat N' Bone, to keep the fun going all night long.
And the best part is that there's a "Mike" for everyone — just choose your fighter. The cast and crew spoke to POPSUGAR ahead of the grand opening of Magic Mike Live Miami. Renowned choreographer Alison Faulk — known for her work across the entire Magic Mike franchise — says it's all about the show's slow burn. It's what packs theaters whenever a new "Magic Mike" film is released. "I don't want to generalize women," Faulk says, "But most of the time, we don't just want the thing right away. You want the lead-in; you want the whole story. Then you feel safe, and then you feel like you can go there. But if you lay out this groundwork with these super-talented guys that all have these incredible specialties, and you feel a genuineness from them, and you feel a connection, and you feel intention with the movement, then you feel OK."
"We're in Miami for six months, so I brought in some Uncle Luke samples. I've added some reggaeton remixes."
If you've seen Magic Mike Live in Vegas, there are unique tweaks made just for MIA you won't want to miss. For one, the "Suavemente" performance hits different in the country's most sizzling city. Hip-hop and Latin-music-lovers will also love the extra sabor and find it hard to sit down. "We tailored the music to where we are," Magic Mike Live's music producer Jack Rayner says. "We're in Miami for six months, so I brought in some Uncle Luke samples. I've added some reggaeton remixes."
You had me at Uncle Luke. The other welcome change is that Magic Mike Live Miami has its own venue. That means your girl-powered oasis isn't ruined by sweaty men in a hotel casino, which is so not the vibe after such an empowering night with your people surrounded by all these beautifully well-dressed men. The Magic Mike Live show's real charm comes from the talented men on the stage. Yes, they have abs for days and smiles that cause squeals, but this show is not all about meaningless humping and grinding. Here, the serenades are sweetly seductive. From classically trained dancers like Australian aerialist Kiana De Van Der Schueren completely dazzling in an onstage pool, to dancer-slash-drummer Nate Bryan hitting the drums while being lifted into the air, to Burim "B1" Jusugi spinning on his head a gravity-defying breakdance performance, true entertainment is the goal.
And those celebrating bachelorette parties aren't the only ones hooked. Stars like Nina Dobrev, Tessa Thompson, and even Janet Jackson herself have stopped by to see the show alongside mere mortals in Magic Mike Live's flagship U.S. location, the Sahara Hotel in Vegas. "Cara Delevigne's a huge fan," Faulk shares. "She's been to the show a million times. She loves the show and loves the guys, and is all about the message." It's the collective energy of the crowd — people feeling empowered enough to celebrate themselves and indulge in a show that puts them first — that makes everyone feel united in one cause: those men.
The men of Magic Mike Live shared how they unwind after experiencing all that intense energy and love from a packed house. For dancer Blake Varga, 23, it's all about food (preferably pizza and a Coke), a calming bath, and a comfort watch. "I just need to wind down by eating food and watching TV and just getting my head space away from the show for a bit because you need to come back and do another," he shares. "I've been watching 'All American.'"
For Nate Bryan, one of the winners of HBO Max's "Finding Magic Mike," life has changed drastically since joining the company. In fact, Bryan wasn't a trained dancer before the series aired. "From working FedEx last year to now, just traveling pretty much from the East Coast to the West Coast now with this company is pretty cool," he says. "Everything from top to bottom; it could be my relationships, even friends. I've just been thrown this curve ball in life, and I'm just here for the ride, honestly."
Both Bryan and Varga have a down-to-earth energy that ultimately translates onstage, and it's why Magic Mike Live remains so popular. Safety and feeling comfortable are also paramount, especially for women like me. After recovering from an assault just weeks before seeing Magic Mike Live Miami, I instantly felt safe, seen, and comfortable. It's one of the reasons that when a dancer so cute I'd practically follow him anywhere took me by the hand and asked me if I'd "help out with the show," I instantly said yes. But I did not know it would be the night's showstopper performance to 50 Cent's "Candy Shop." If you've seen "Magic Mike XXL," it's the scene where Adam Rodriguez performs in a NY Yankees fitted and timbs and licks whipped cream off an audience member.
That scene.
The dancer made me feel so comfortable as he laid me on the stage to the sound of 50 in a room full of screaming people and told me exactly what would happen. As the crowd yelled, "Get it, girl!" I checked out a massive item off my bucket list and couldn't stop smiling. It was everything I needed, especially after what I'd experienced, which left me feeling jumpy, unsafe in my body, and unable to trust men. Without knowing it, the men of Magic Mike Live Miami gave me my smile back and my sense of safety.
Magic Mike Live is in Miami for the next six months. And who knows, your city might be up next!