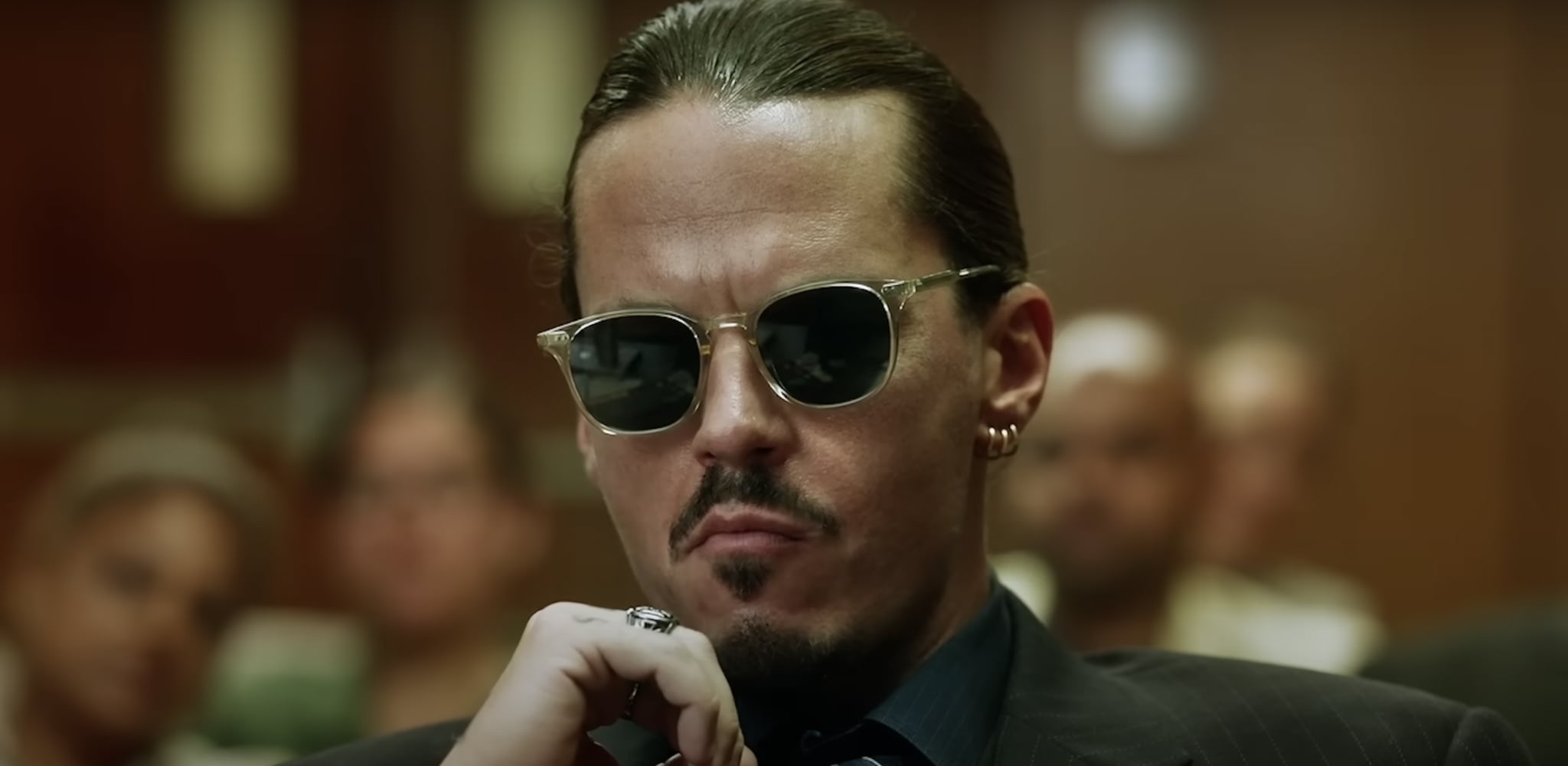 Image Source: YouTube user Tubi
The verdict for Amber Heard and Johnny Depp's defamation trial was delivered just four short months ago, but their highly publicized legal battle is already being made into a movie. The first trailer for Tubi's forthcoming film "Hot Take: The Depp/Heard Trial" debuted on Sept. 28, with Mark Hapka portraying Depp and Megan Davis as Heard. Directed by Sara Lohman, the project will retell the story of Depp's lawsuit against Heard, which became a social media sensation over the summer.
The verdict for the trial was delivered on June 1, with the majority of the jury finding that Heard defamed Depp in a 2018 article about domestic abuse, although Heard had not mentioned Depp by name in the piece. Depp was awarded $10 million in damages, while Heard won $2 million in damages on her end for one of her counterclaims.
"The disappointment I feel today is beyond words," Heard wrote on Instagram about the verdict shortly after it was announced. "I'm heartbroken that the mountain of evidence still was not enough to stand up to the disproportionate power, influence, and sway of my ex-husband. . . . I'm sad I lost this case. But I am sadder still that I seem to have lost a right I thought I had as an American — to speak freely and openly."
Depp also reacted to the verdict on Instagram. "Six years ago, my life, the life of my children, the lives of those closest to me, and also, the lives of the people, who for many, many years have supported and believed in me were changed forever. . . . False, very serious and criminal allegations were levied at me via the media, which triggered an endless barrage of hateful content, although no charges were brought against me," he said, continuing, "And six years later, the jury gave me my life back. I am truly humbled."
Heard has since appealed the $10 million settlement, while Depp has appealed the $2 million that Heard received, per the Los Angeles Times, though the trailer does not appear to touch on posttrial proceedings. Reps for Depp and Heard did not immediately respond to POPSUGAR's request for comment on the film.
Ahead, read on for what we know about the movie.
"Hot Take: The Depp/Heard Trial" Cast
In addition to Hapka as Depp and Davis as Heard, Melissa Marty will play Depp's lawyer Camille Vasquez, and Mary Carrig will play Heard's legal rep Elaine Bredehoft.
"Hot Take: The Depp/Heard Trial" Plot
"Hot Take: The Depp/Heard Trial" will follow the events of Depp's defamation lawsuit against Heard. Judging by the trailer, it will also dramatize parts of the downfall of their relationship, as well as their own personal struggles.
"Hot Take: The Depp/Heard Trial" Release Date
"Hot Take: The Depp/Heard Trial" will be available to stream on Tubi on Sept. 30.
"Hot Take: The Depp/Heard Trial" Trailer
[embedded content]